Astounding Accident
There have been times in my life when I've felt that there was just something I was meant to do and hadn't gotten around to yet! Well, I guess these guys probably feel the same way NOW!! Be sure to follow the instructions here as you CHECK THIS OUT!!!

LOOK CLOSELY AT PHOTO 1

This is between Prescott, AZ and Ashfork, AZ.

LOOK CLOSELY AT PHOTO 1 (Don't go to photo# 2 until you look at #1 very closely.) This is an interesting, even breathtaking couple of photos. Be sure to read the 1st caption below picture before going to the 2nd photo. Look closely at the first photo take your time. Then scroll down very slowly.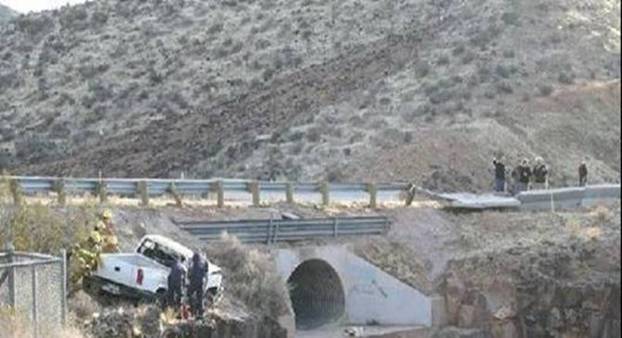 Look at the picture above and you can see where this driver broke through the guardrail, on the right side of the culvert, where the people are standing on the road, pointing.
The pick-up was traveling about 75 mph from right to left when it crashed through the guardrail.
It flipped end-over-end bounced off and across the culvert outlet, and landed right side up on the left side of the culvert, facing the opposite direction from which the driver was traveling.
The 22-year-old driver and his 18-year-old passenger were unhurt except for minor cuts and bruises.
Just outside Flagstaff, AZ, on U.S. Hwy 100.
Now look at the second picture below...
If God isn't done with you, Then God isn't done with you !!

WOW!!
Postscript of 2 Mar 2017: I've just received two emails one claiming this is a hoax that was photoshopped and the other with an article claiming it is authentic. The one claiming hoax pointed out that there is no highway 100 there and sure enough it is U.S. 89 instead that connects Prescott to Ash Fork. The latter referred to an article at www.cnn.com/2007/US/09/06/utah.crash/index.html?_s=PM:US claiming that it actually occurred on Utah Hwy 59 outside of Hurricane, UT. But then it says that is in the Mojave Desert, which I thought was in California. But it was a CNN article, so I checked that out and sure enough, the Mojave Deseret extends across Nevada and into that area!
When I looked again at the photos more closely, they looked photoshopped to me because you can see a boulder cut in half just to the right of the culvert and what looks like poor job of cut and paste. But then I realized that to put in the culvert they may indeed have split that rock! So it might be authentic!
You decide!
But if nothing else, this teaches us to question what we see in photos, even on the news, even from CNN. We should all learn to seek truth for ourselves! That is what this website is all about! Thanks to both of those who wrote me.