Fourth Annual Utah Valley Open
by John P. Pratt
The Fourth Annual Utah Valley Open Table Tennis Tournament was be held on Saturday, May 1, 2004, sponsored jointly by Pleasant Grove City Recreation and the Timpanogos Table Tennis Club. Table tennis is a very popular Olympic sport in Europe and Asia, and is gaining popularity in the United States because it is a life-long sport in which youth, men, women, the elderly and the handicapped can all compete together. The tournament was played according to U.S.A.T.T. standards, including the new 40 mm larger ball and the 11-point game. Matches were held in the popular modified round-robin format when feasible, which allows all players to play the same number of matches rather than being eliminated after only one or two losses.
Tournament Results
All 22 entrants in the Round Robin Open Singles have their final rank listed, as well as the Women's Singles, Mixed Doubles, and Age events, all of which were in Round Robin format. The only double elimination tournament was the Open Doubles, where as many final places as possible are listed. Here are the results in the order of events played.
14 & Under
No entrants.
18 & Under
No entrants.
Women's Singles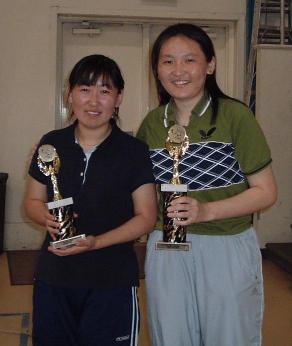 Women's Singles. First Place: Meg (right). Second Place: Javza.
Batchimeg (Meg) Tsedenbal
Javzandulam (Javza) Gaav
Karlee Rehrer
Mary Pratt
Mixed Doubles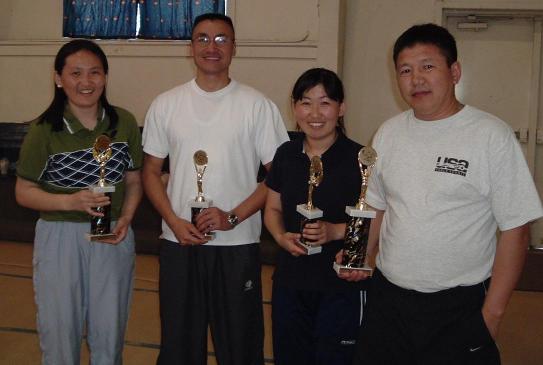 Mixed Doubles. First Place: Zorigt & Meg (left & right). Second Place: Bat & Javza (middle)
Zorigt (Joey) Radnaased & Batchimeg (Meg) Tsedenbal
Bat Erdene & Javzaandulam Gaav (Javza)
John Pratt & Mary Pratt
Ryler Rehrer & Karlee Rehrer
Open Doubles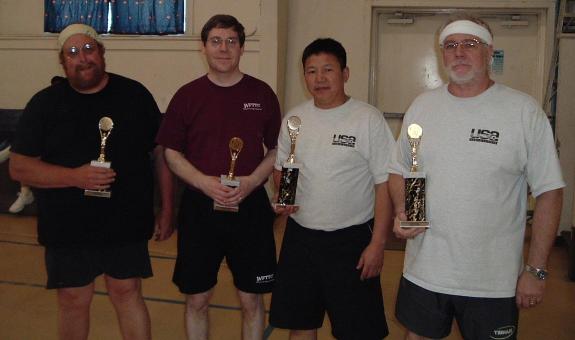 Open Doubles. First Place: Zorigt & Craig Zimmerman (right). Second Place: Doug Hansen, Jeff St.Clair (left)
Zorigt (Joey) Radnaased & Craig Zimmerman
Jeff St. Clair & Douglas Hansen
Ziniu Zhou & Dennis Cao
Batchimeg (Meg) Tsedenbal & Richard Sang
Grant Misbach & Matt Misbach
John Pratt & Tyler Rehrer
George Guo & Walt Milem
Age 40-49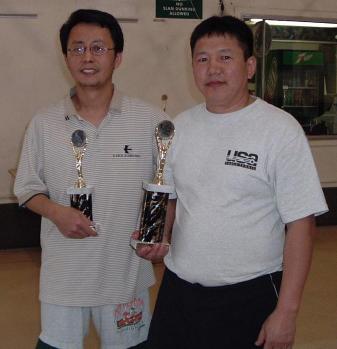 Age 40-49. First Place: Zorigt (right). Second Place: George Guo (left)
Zorigt(Joey) Radnaased
George Guo
Douglas Hansen
Gary Fluckiger


Age 50-59

Age 50-59. First Place: Jeff St. Clair(left). Second Place: John Pratt (right)

Jeff St. Clair
John Pratt
Walt Milem
Wayne Southwick




Age 60+

Age 60-69. First Place: Grant Misbach (right). Second Place: Craig Zimmerman (left).

Grant Misbach
Craig Zimmerman
Wally McCormick
Lucas Erasmus




Open

Open: First Place: Zorigt (left). Second Place: Meg (right)

Zorigt (Joey) Radnaased
Batchimeg (Meg) Tsedenbal
Ziniu Zhou
Doug Hansen
Jeff St. Clair
Richard Sang




Class "A" Singles

Open: First Place: John Pratt (left). Second Place: Dennis Cao (right)

John Pratt
Dennis Cao
Craig Zimmerman
Wally McCormick
Ed Cheng




Class "B" Singles

Open: First Place: Gary Fluckiger (left). Second Place: John Clark (right)

Gary Fluckiger
John Clark
Walt Milem
Tyler Rehrer
Wayne Southwick
Bat Erdene




Class "C" Singles

Open: First Place: Steve Yardley (right). Second Place: Javza (left)

Steve Yardley
Javzaandulam Gaav (Javza)
Lucas Erasmus
David McCormick
Karlee Rehrer