Second Annual Utah Valley Open
by John P. Pratt, 25 March 2002
The Second Annual Utah Valley Open Table Tennis Tournament was held on Saturday, March 23, 2002, sponsored jointly by Pleasant Grove City Recreation and the Timpanogos Table Tennis Club. Thirty-two contestants participated in thirteen events. Table tennis is a very popular Olympic sport in Europe and Asia, and is gaining popularity in the United States because it is a life-long sport in which youth, men, women, the elderly and the handicapped can all compete together. The age mix was demonstrated at this tournament, where septuagenarian Frank Krogh beat the 18 and Under champion Anthony Davis for the "Class D Singles" crown. As for the Battle of the Sexes, Tournament Director John P. Pratt still remembers when State Women's Champion Carol Davis beat him in straight games when she was eight months pregnant. That was eighteen years ago, and their long rivalry continued today when their match went to a fifth game (matches were all the best three of five games).
Many who participated in this tournament for the first time were surprised to find such a high level of play here in Utah Valley. The tournament was played according to U.S.A.T.T. standards, including the new 40 mm larger ball and the 11-point game. Matches were held in the popular modified round-robin format when feasible, which allows all players to play the same number of matches rather than being eliminated after only one or two losses.
Tournament Results
The picture of the first place winner is on the left of, or above, the second place. Players with national ratings have them listed in parentheses. The rating system is such that the national champions rating is about 2800, and a complete novice about 100. Usually a difference of 100 rating points means that the lower player has little chance to win. All 22 entrants to the round robin Open Singles have their final rank listed, other tournaments have only those who placed in the top 2-4 if the double elimination format was used. Click on the small picture to see the full picture. If there is a third person in the full picture, it is the third place place finisher. Here are the results in the order of events played.
14 & Under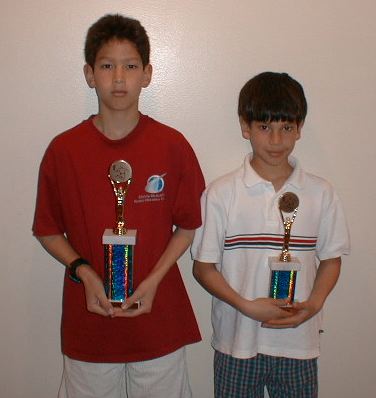 L-R: Spencer & Tyler Loong
Spencer Loong
Tyler Loong
Didier Bouchever
The level of play of the 14 & Under Division was extremely competitive, with some of the players defeating adults in the later Open competition. There were seven contestants, using a double elimination format. In the Winner's bracket, David Stoddard was defeated by Tyler Loong in the semi-finals, while Didier Bouchever defeated Spencer Loong. Tyler prevailed over Didier in the finals, which sent Didier to meet Spencer in the Loser's bracket. Spencer was able to win the loser's bracket, and then went on to defeat his younger brother Tyler to secure first place.
18 & Under
L-R: Joseph Pratt & Anthony Davis
Anthony Davis
Joseph Pratt
Anthony Davis defeated Joseph Pratt in the 18 & Under Division in a match which continues the rivalry between their parents, who also played each other in the Mixed Doubles Division.
Women's Singles
L-R: Carol Davis & Celine Bouchever
Carol Davis (1492)
Celine Bouchever
Betty Raymond
Ruth Pratt (208)
Carol Davis has been the reigning Women's Singles champion in Utah for the last 20 years, and has so dominated the sport that competition for her has been hard to find. Celine Bouchever, age 14, gave her the best competition today, beating senior Betty Raymond for second place.
Mixed Doubles
L-R: Teams Bouchever and Davis
Byron & Carol Davis
Sloane & Celine Bouchever
Wally McCormick & Betty Raymond
John & Ruth Pratt
Byron Davis, who has been the Utah State Open Champion several times, and his wife Carol have not only been the Mixed Doubles Champions for twenty years, they always rank high in Utah Open Doubles competitions. Today they met some resistance from Sloane Bouchever and his daughter Celine, who were able to win one game against them, to place second.
Open Doubles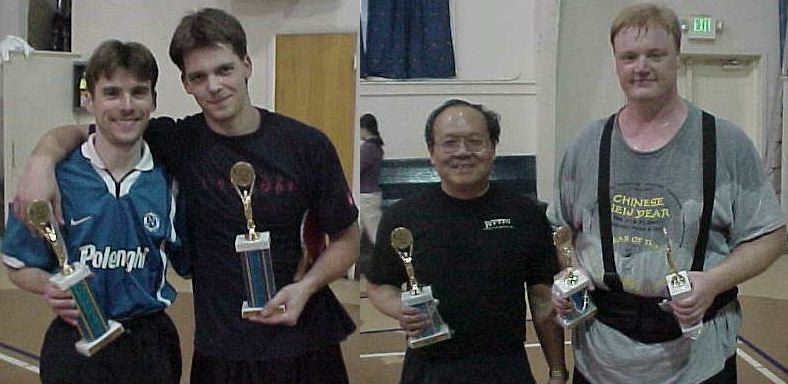 L-R: Noel & Daniel Huermann, Lailing Ma & Bart Williams
Noel Huermann & Daniel Schuermann
Lailing Ma & Bart Williams
Byron & Carol Davis
James & Tyler Loong
The Open Doubles was extremely competitive. It had ten teams enter, in a double elimination format. The Mixed Doubles champion Davis couple was defeated in the semi-finals by Noel Huermann and his brother Daniel Schuermann. Rick Heilbut and Leroy Bybee lost to Lailing Ma and Bart Williams in the other semi-final bracket. Ma and Williams sent the brothers to the losers bracket where they went on to defeat the Davis's. Thus, Noel and Daniel won the chance to meet Williams and Ma again and this time they prevailed. As only happens in double elimination tournaments, the brothers had to play Williams and Ma a third time because a team must lose twice to be eliminated. The third time was the charm, and Noel and Daniel were able to snatch the first place trophy by twicd defeating the team they had lost to.
Age 40-49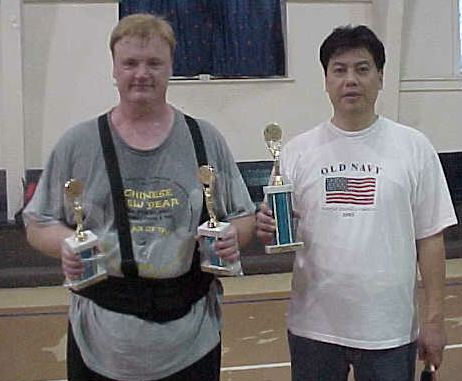 L-R: Bart Williams & James Loong
James Loong (1725)
Bart Williams
Carol Davis (1492)
While in some sports the Senior Division for those over age 40 is designed to give retiring athletes a break from the young bucks, in table tennis older players can still maintain their edge. Last year the U.S. champion was also the Over 40 champion, and in Utah, the highest nationally rated player is George Majors, who is in the Over 50 category. Competion here was very tough, and dominated by James Loong who had been the champion of Hong Kong in his twenties. Carol Davis beat Bart Williams in the semifinals of this double elimination tournament, but Bart was able to beat her when she too joined the loser's bracket, so Bart secured the second place trophy.
Age 50-59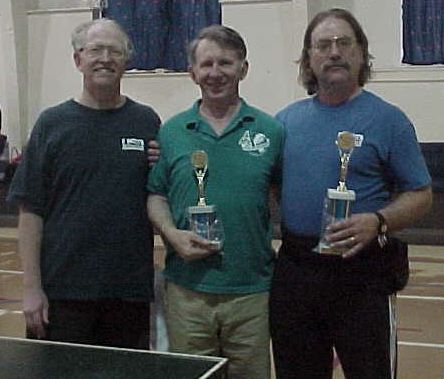 L-R: John Pratt, Larry Newman & Byron Davis
Byron Davis (1898)
Larry Newman (1620)
John Pratt (1509)
No surprises occurred in the Age 50-59 Divison where the three entrants finished as expected from their national ratings.
Age 60+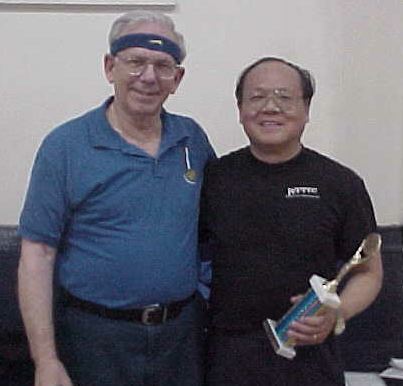 L-R: Grant Misbach & Lailing Ma
Lailing Ma
Grant Misbach (1467)
Wally McCormick (1023)
Lailing Ma, a top player in the state, found all he could handle in Grant Misbach of Provo, who is director of the Table Tennis division of the Huntsman World Senior Games every October in St. George. Ma had to defeat Misbach twice, and the final match went to deuce in the fifth game. Misbach, who is over seventy, is always a tough competitor.
Open Singles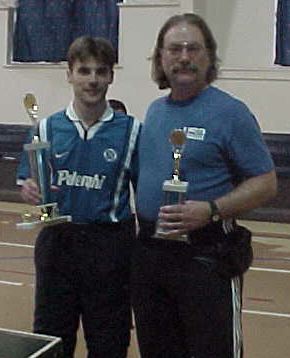 L-R: Noel Huermann & Byron Davis
Noel Huermann
Byron Davis (1898)
James Loong (1725)
Ernesto Lo Russo
Lailing Ma
All five of the highest seeds maintained their "open" status by winning the preliminary round. Top seeded Byron Davis is ranked fourth in Utah by the national rating system. His principal challenge was expected to come from Utah Valley champion James Loong, rated nearly two hundred points below him. Noel Huermann was also expected to pose a threat, as he has come close to beating Loong in club play. Huermann, a B.Y.U. student, upset both Loong and Davis with stunning play by sweeping the division undefeated.
Class "A" Singles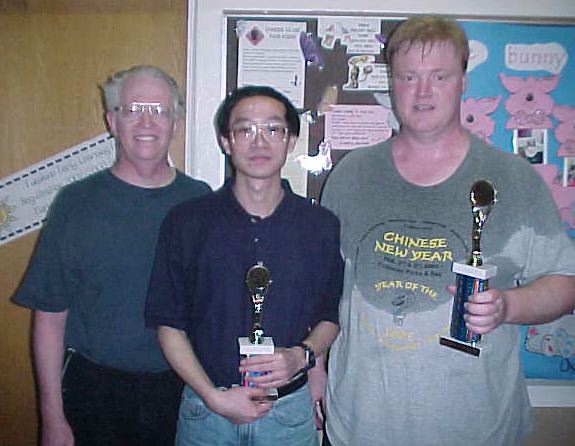 L-R: John Pratt, Zihiu Zhou, & Bart Williams
Bart Williams
Zihiu Zhou
John Pratt (1509)
Larry Newman (1620)
Carol Davis (1492)
Competition could not have been closer in the Class A Division. Top seeded Larry Newman is occasionally upset in club play by Tournament Director John Pratt, who in turn sometimes beats Ernesto Lo Russo who played in the Open Division. Pratt reports that all four of his matches in this round robin event required all five possible games! In fact, his final game with both Williams and Zhou, who took first and second, both went to deuce. Even though only a few points separated all five of these players final rank, there were no three-way ties; each player defeated all of the players beneath him or her. Carol, even though she placed last here, had defeated the first place Bart in an earlier match in the Age 40-49 category. That is about as close as the competition can get!
Class "B" Singles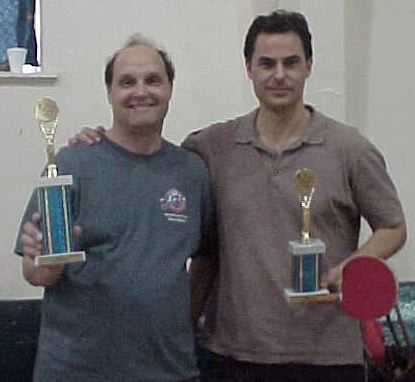 L-R: Rick Heilbut & Sloane Bouchever
Rick Heilbut
Sloane Bouchever
Dennis Cao
LeRoy Bybee
Rick Heilbut, Recreation Manager for Pleasant Grove, won the B Division by defeating Sloane Bouchever. Both are very close in weekly club play, and each sometimes defeats either Pratt or Newman, who played in Class A. Thus, the competition was exceedingly fierce across the B and C divisions.
Class "C" Singles
L-R: Wally McCormick & Daniel Schuermann
Daniel Schuermann
Wally McCormick (1023)
Ken Severn
Didier Bouchever
Close competition was also the name of the game in the C Division. It began with an upset in the preliminary round, when Didier Bouchever, who did not even win a trophy in the 14 & Under Division, defeated Anthony Davis, the 18 & Under winner, forcing him to the D Division. Skill level here was so close that there was a three way tie in matches between the top three seeds, with Daniel Schuermann defeating Wally McCormick, who beat Ken Severn, who in turn beat Daniel in five games. In such cases, the win-loss record in games breaks the tie, which gave Daniel the win and Wally second place.
Class "D" Singles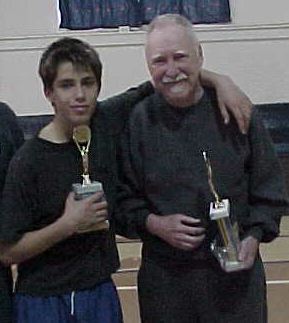 L-R: Anthony Davis & Frank Krogh
Frank Krogh (1070)
Anthony Davis
Betty Raymond
Celine Bouchever
When Anthony Davis was forced out of the C Division, he might have thought he could make a clean sweep of the D's. But here he found his nemesis Frank Krogh, who had defeated him in last year's Utah Summer Games, which is also the Utah Closed Table Tennis Tournament (for Utah residents only). Frank was able to sweep the division undefeated, but there was a three-way tie in matches for second place. Anthony's humbling by the Bouchevers continued as Didier's sister Celine (who also did not place in the 14 & Under) defeated him, demonstrating the high level of play in the 14 & Under Division. She in turn was defeated by Betty Raymond, who had played in the 60+ Division and whom Celine had beaten in the Women's singles. Betty lost to Anthony, resulting in a three-way tie. Counting games to break the tie gave second place to Anthony, so he was vindicated at last.

Thus, the level of play was excellent throughout and the closeness of competition lead to an extremely enjoyable tournament. All were grateful to Pleasant Grove City for making their Recreation Center available at no charge for this event, and for helping to provide the many trophies.