Utah Valley Table Tennis Tournament
James Loong wins the Men's open championship
with Larry Newman taking 2nd. John Pratt won the A division with Rick Heilbut as the runner up. In the men's doubles Grant Misbach and Rick Heilbut took first and John Pratt and Mark Tyler teamed up for the 2nd place award. Melanie Eastwood and Rick Heilbut won the mixed doubles with Denee Tyler and Mark Tyler as 2nd.
In the youth divisions Rick Heilbut took first place and Christian Devereaux 2nd. In the girls Christina Easwood took first. The youth doubles championship went to Andrew Eastwood and Christian Devereaux, 2nd place was a tie between the team of Jeffrey Heilbut - Jordan Johnson and Ricky Heilbut - Alex Eastwood.
The Utah Valley Table Tennis Club meets on Wednesday nights from 7:30pm to 10:30pm at the Pleasant Grove Community Center. All youth and those that want to learn are invited from 6:30pm to 7:30pm. For more information please call the Pleasant Grove Recreation Department at 785-6172.
Click on photo to view full size

Ricky Heilbut

Christian Devereaux

Andew Eastwood Jordan Johnson

Christian Devereaux Ricky Heilbut

Jorday/Christina
Christian/Alex
Ricky/Andrew

Christian/Andrew
Christina/Ricky
Jordan/Alex/Jeffrey

Melanie Eastwood
Rick Heilbut

&nbs p; &n bsp; &nbs p; &n bsp;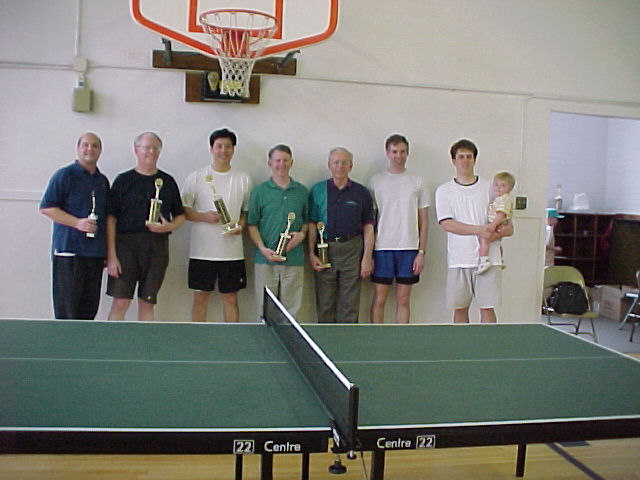 Rick Heilbut, John Pratt, James Loong, Larry Newman, Grant Misbach, Mark Tyler, Matt Misbach