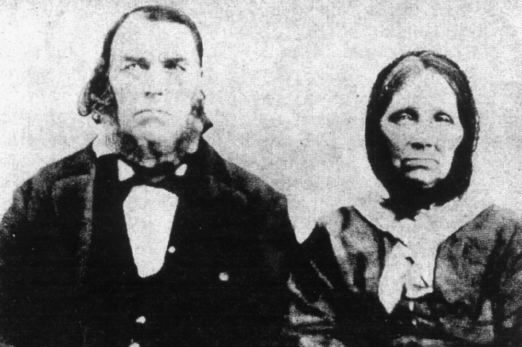 Jehu and Sarah Cox.
Jehu cox was born in Knox County, Kentucky on September 5, 1803 of good Quakers, Thomas and Rachel Carr Cox. Jehu married Sarah January 13, 1824. In 1837-38 two Mormon missionaries, Elders Benjamin L Clapp and Isaac Allred, stopped at their home and asked to stay at their home. On January 12, 1838 they both were baptized into the church by Elder Clapp. They moved to Nauvoo in 1841. They lived there for four years. They were endowed in the Nauvoo temple, February 2, 1846. On May 20, 1846 they crossed the Mississippi River where they stayed at Pisgah and then on to Winterquarters. On July 16th, their son Henderson signed up to be in the Mormon Battalion at age 16. Jehu and Sarah had 8 children when preparing for the long journey to Salt Lake City, so it required two wagons. On May 18, 1848 they traveled with the Heber C. Kimball's Company and began their journey to the Rockies. He was assigned to be Captain of Fourth Ten. On June 15th, they lost their little girl Lucretia when she was tossed from the wagon due to bumpy ruts and was run over by the heavy wagon. (They later found out that their son Henderson was killed by Indians in route home from California in the same month).
Finally, they arrived in the Valley, September 24th. They had traveled a distance of 1,031 miles which took them 130 days, an average of 7.9 miles per day. The physical needs of the settlers in the valley was very great. Their provisions were exhausted and the crickets had eaten much of the 1848 crop. "Many of the people were compelled to eat raw hides and to dig sego and thistle roots to subsist." For saving the lives of the new settlers, the Sego Lily is the state flower of Utah. In April of 1849, they were the first settlers of Cottonwood, Salt Lake City Utah and built Fort Union (a ten acre area with a twelve foot wall) to protect them from the Indians. They later donated the land when called on to serve a "Cotton mission" by Brigham Young. July 13, 1851 the first ward was organized where Silas Richards was appointed bishop and Jehu was his first counselor. They built a wall 12 feet high around and 40 rods square. In 1853 there were 23 families and in 1854 there were 274 persons. Jehu gave ten acres of his land for the fort site.
In 1852 The Cox family moved to Mt. Pleasant and in the museum we may see Jehu's picture as founding father of Mt. Pleasant. Jehu again helped build the wall to fortify the saints against the hostile Indians. The church records show that both Jehu and his son Isaiah donated 10 ½ hours to the project. They later moved to Fairview ( also known as North Bend).
It was at the October Conference of 1961 that Brigham Young made the call for 300 heads of families to settle Southern Utah. Isaiah Cox, Allen Joseph Stout, Hosea Stout were those called. Jehu and Sarah remained in Fairview but went through the difficult Black Hawk war in the 1860's.
Sarah and Jehu spent time doing temple work at St. George after living the United Order in Fairview in 1874. Records show that they had sealings done in the St. George temple after it was dedicated April 6, 1877. Sarah died August 25, 1891 and Jehu died December 26, 1893. Both are in the Fairview cemetery. Fairview is about a forty minute drive going south of Provo, Utah. This information comes from the book: Jehu Cox by Wayne D. Stout, brother of Achsah