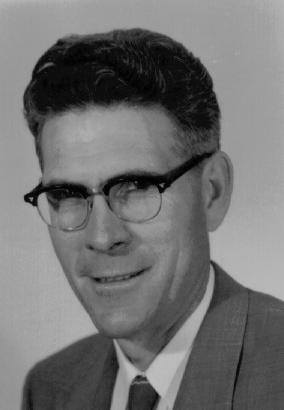 Adrian McOmber.
Adrian writes: "Father and mother, Calvin, and Emerson were forced from their home and farm in Old Mexico during the 1912 Revolution which caused all the Mormon colonists to flee to Texas. The folks only had a few clothes and two days food. They were able to work their way up to Logan, Utah. After hearing of homestead opportunities in Oakley, Idaho, where the Government had built a dam, my parents moved there. Father borrowed money, and built a home there, but not enough water came into the dam. Arthur, Ferryle, Winston, David, and I were all born in this home in Oakley.
We could not afford electricity. We used a kerosene lamp for light. We ate wheat and drank and cooked with whey from the choose factory, which was being thrown away. After ten starvation years, we left the farm and moved to Pocatello, Idaho. I was four years old. Father started up an orange drink business that didn't do so well. When I was six years old, Ferryle, Winston, and I would get peoples' cows and take them out away from town and herd them for ten cents each, per day.
Soon father agreed to build a house on a farm, if we could live in it for a few years. We bought some cows and our dairy was started. The depression hit and people could not pay their milk bills. Our struggle continued, but with seven brothers we were able to go on to college and missions. The dairy required that we work every day of the year.
Adrian relates that he milked seven and even thirteen cos when he was thirteen years of age. He helped run the milk route, getting up at 4:00 A.M. Adrian was very athletic in school. The track coach asked him to be in the track meet. He went and placed first in the discuss and second in the shot-put. Even though the dairy prohibited him to go to practice, he earned his athletic letter each year. The dairy was a work out in itself!
Cecil Cook came to live with the family as a dairy hand while he attended college in Pocatello. Adrian became interested in his sister, Grace. She came to his missionary farewell and they wrote to each other. He was called to the North Central States Mission. He served in St. Paul, Minnesota and in Winnipeg, Canada. He returned March 21, 1944 and married April 26, 1944 in the Logan temple to his beautiful bride Grace.
They made their home in Logan attending college at Utah State University and majoring in Agriculture. Later they moved to Hayward California and he taught Math and Science. Adrian has served as a seminary teacher, high councilman for 6 years, High Priests Group leader 6 years. He retired from teaching and worked with apartments and realestate.They have had eight wonderful children: Douglas, Logan (Clair), Gail, Earl David, Mark, Carol, Kent, and Ann. They are loving their posterity.
Adrian struggled with his health and had to have cancer treatments. Diabetes set in from the cancer treatments. Today Alzheimer's is taking a tole him. (2003)
A letter from Aunt Grace, dated February 2, 1982
Dear Ruth,
We received your letter and picture, thank you very much. We are happy to hear from you and that all is well. Uncle Arthur and Kathy have been here visiting with Art and Dianna. They came for the presentation of the Eagle Scout award to Art Jr. and his Priest ordination. We plan to go to Velma's Thurs- day evening for a visit with all who can be there, if we can get our car repaired in time.
Mark is in Paris now and loves his missionary work. He had three years of French in high school so has done very well so far, although he says it's like going into another world.
Doug and Cliffie are in Maryland. He's working for the Defense Dept. It's been very cold there. Clair is here now getting some organic Chemistry requirements and still is in the Navy.
You know, I guess that Gail is in Salt Lake City as a Pharmacist. He lives in Sandy. They have 3 girls.
Earl is attending medical school in SLC and lives in Holladay. They have two girls and one boy.
Carol and Steve are in Concord, Calif. with two little girls.
Kent and Kathy live in Fremont about two and a half miles away and have one boy.
Ann is a Jr. in High school and has a part time job with a sewing machine company, members of our own ward.
Adrian is terribly busy taking care of rentals and teaching full time. His health is fair. My birthdate is November 30, 1923, in Rexburg,Madison, Idaho, Love, to all, Aunt Grace.