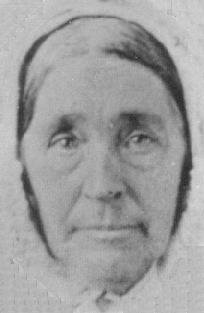 Asenath Slafter Janes
Another scan of the famous pioneer who faced trial and tribulation and who walked the entire way to the Salt Lake Valley. Bless Her! Young Henrietta Janes later married Isaiah Cox, son of Jehu. She was a woman alone when she came across the plains with her teen- age daughter, Henrietta.
From her journal we read some of the travels of Asenath: "April 27. 1841, took the steam -boat for Norwich to New York. Left N.Y. the 29, 1841 for Philadelphia. Left Philadelphia April 30th for Columbia. Left Colombia for Pitsburg on our way to Nauvoo, about the middle of May.
We left Nauvoo Oct. the first 1846. We crossed the Mississippi and camped on the bank of the river four weeks. Then we took leave the first of Nov. for Garden Grove and arrived on the 14 Nov. Aug. 23, 1847 left Garden Grove for Winter Quarters, arrived about the middle of Sept.
On the first of May 1848, crossed the Missouri River back again on the Potawatamie lands to wait for the way to open for my journey to the valley of Salt Lake City." She had wonderful handwriting and good English.