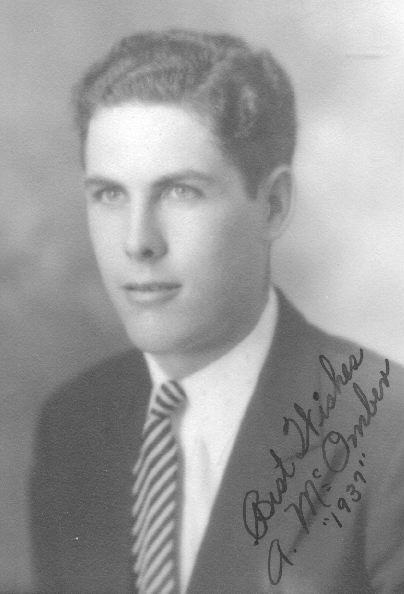 Arthur Fisk McOmber as a young missionary
We appreciate this picture given to us from Uncle Ferryle's collection. Arthur taught dancing to the MIA youth as a missionary to the Southern States. He was a popular teacher with many, gifted in business and basketball. He was a great man and honored his priesthood. He was born in Oakley, the third son. Arthur writes: "I grew up in a big, little city of the west, called Oakley. Our family did things together. We would get in a circle and have a big meal. My father was a wonderful man and loved a good joke. We would go to the canyons together. We would have picnics. My mother was a wonderful woman. She always would say: "let's do this and laugh and play and enjoy each other".
One of Arthur's memories was the time a hired hand heard him pray at the table. "I'll give you a quarter if you will teach me how to pray", asked the man. Arthur was thrilled for the opportunity and smiled from ear to ear. His brothers said he was the first paid minister of the family.
He was a man who worked very hard and loved business dealings. He owned a hotel in Northern Pocatello and other business interests. He met his wife June Martineau while working on the Railroad. Her father, Howard Martineau worked with Arthur and invited him home to meet June. Arthur was very impressed with her gifted mind. He always said he wanted smart children like June. He married June on June 21, 1940. They have three living children: Arthur, Howard, & Susan McOmber Lemmons. Arthur was a conductor for Union Pacific Rail Road in Pocatello, Idaho
He was a business man and realtor. He has always been active in church service. He served as stake dance director. He attended Oakley Grade School, Pocatello High where he also played sports. He served a mission to the Southern States.
After June died in a car accident in California, he remarried Mary Kathleen Merkley Arhnsbrock May 24, 1970 in the Salt Lake temple. He later moved to Vernal where he enjoyed the association of David and Laura Arhnsbrock, Kathy's son and grandchildren. Arthur died of Alzheimer's Disease, December 31st at 11 pm, 1999. He just missed the new millennium by one hour.