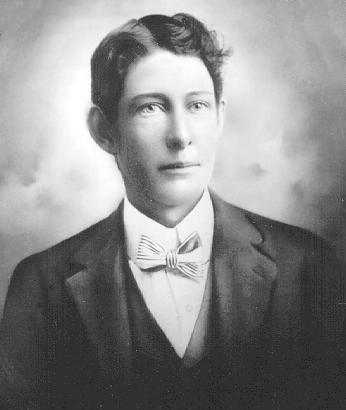 Calvin Delos McOmber Sr.
As a young man at the age of 17, Hyde Park, Utah. Calvin relates:" I was born August 22, 1885 in an adobe house near my Grandfather Griffith's home in Hyde Park, Cache, Utah. My father, Orange, evidently spent most of his time at Lewiston, Utah, about 20 miles north of Hyde Park, where he owned a farm, and where Aunt Vilda his first wife, lived. My mother, his second wife, was Marinda Elizabeth Griffith. About the time we moved in with my grandparents, my younger sister, Minnie and I had Whooping cough, at which time she also had pneumonia, and died at the early age of 20 months.
In the early winter of 1890, I went with mother to Grover, Wyoming in Star Valley, where she was sent to care for Aunt Phoebe Hyde during her expected confinement. After the baby was born, Aunt Phoebe died, and mother was asked to take the three young children to Hyde Park and care for them. This was during the crusade against Polygamists.
When I was four, Mother and I went to Bennington, Idaho to visit my father and Aunt Vilda. Father had many farm horses, which I enjoyed looking at in the corral. I have thought in later years, that the purpose of the visit was to determine whether or not my parents would be divorced. I did not see my father again until the summer of 1925 when I visited him at the Soldier's Home in Roseburg, Oregon.
At six years of age, I started school in the vestry of the Ward Chapel, with Mary Ann Grant as my teacher until I passed in the 4th grade, then I sent to the regular school house, with James William Hurn as my teacher. He was very courteous, and always raised his hat when meeting a person, even to me, a child. I would go out of my way to meet him and return the courtesy. I was baptized Sept. 7, 1893 by George Seamons, and confirmed the same day by Charles G. Hyde, Bishop.
During my childhood from six to eleven years, while yet living in the home of my grandparents, it was my chore to get the wood and coal in each evening, milk the cows, and feed the pigs and chickens. I also fed the cows in the winter, and in the summer. I drove them to pasture. I walked 3/4 of a mile to the pasture twice each day, taking them there and getting them in the evening, always wishing for a horse and saddle so I could ride."
It was in 1897 that Calvin went with his Uncle Heman Hyde to Grover, Wyoming. They lived in the Kingston home just a half a mile from the Grover Ward chapel. He rode his horse Coaly, a black pony to school where Gibson Condie was the teacher. He milked eight cows and helped to earn money for the local creamery there.
It was in 1898 that Griffeth grandparents moved to Star Valley Wyoming. They died there soon after. In 1900 Calvin was sustained as assistant Sunday School Secretary in the Grover Ward, and a teacher of the first intermediate class. He was ordained a Deacon, Feb. 19, 1900 where he served as president. In March, 1903 his mother remarried to Arthur B. Clark and they moved to Old Mexico four months later.
While he was working on a farm in Guadalupe, he noticed a girl named Achsah Stout. They became acquainted and he later married her four years later. (She was only 14 when they met.) The Clarks bought a farm there in Guadalupe where they lived in 1903. In the Guadalupe ward, Calvin was set apart as Sunday School Superintendent Feb. 12, 1904 with David Stout and Frederick Clark as assistants. Later, Achsah Stout was sustained as Secretary and served in that position until 1909.
In 1905, Calvin was appointed to work out plans, select a site, and prepare for the building of a new chapel. Calvin was in charge of the chapel building, kept books and funding organization. On Feb. 7, 1909 the chapel was dedicated and Brother George A. Black became our Presiding Elder. Unfortunately, he was shot by the Mexicans during the revolution.
Calvin relates,"I purchased 20 acres of land from David Stout, and soon married my Sunday School secretary, Achsah Stout at the home of David F. Stout."
Bishop Thurber married them. In September Achsah, Calvin, and sister Daisie Stout and Edmund Richard- son, took the long journey to the Salt Lake temple to be sealed for all eternity. President Winder performed the ceremony October 7, 1909. Calvin and Achsah went to Idaho seeking work, during which time their first son Calvin Jr. was born. They returned to the colonies where their second son Emerson was born. In 1910 they had land, cattle, and were set building a home for a happy furture in Guadalupe. July 30, 1911 chose Calvin to teach school for the winter of 1911-12. He was sustained as Sunday School Superintendent again. On March 23, 1912 The Apostle Anthony W. Ivins ordained Calvin to be a Seventy. However, only four months later, on July 28th word came for all the saints to leave and be in Dublan at the earliest possible moment to take a train to El Paso. Calvin helped with the exodus of his family and 40 other women and children. It was a great sorrow to leave, and a great loss to them.
Aunt Hellen Clark welcomed the saddened refugees in her home in Logan after they left El Paso, Tex. They lived in Logan at 335 East, 4th No. where bishop Anderson got Calvin a job with his tools at the Utah State Agricultural College. It was in 1914 Achsah and Calvin got word of homesteading Oakley, Idaho. They moved in 1914 to a dry farm of 320 acres and later purchased 22 acres of irrigated land. That year he was ordained a High Priest, Dec. 14th. He served as bishop counselors to John A. Elison and later to George Severe. Five more children were born while they lived in Oakley. Water problems were their lot, so they moved to Pocatello in June of 1925.
While at Pocatello, Calvin was appointed as a Stake Sunday School Board member and served on the Stake High Council for ten years; then was ordained a Patriarch by President Steven L. Richards. He served in the Pocatello Stake and later on in the West Pocatello Stake.
Achsah and Calvin started the McOmber Dairy on the corner of Cedar and Pole Line Rd. They soon added Velma to the family. Calvin relates, "We set up a good Guernsey herd and built a profitable business, selling milk and cream. We purchased the house we built and lived there for 30 years".
Calvin served a mission as ground care taker of the new Idaho Falls temple. Soon after Achsah and Calvin served a mission for the church of Jesus Christ of LDS to Tampa, Florida. They returned home in May of 1946. Another mission call came Aug. 22, 1949 to to Bannock Creek Indians. The 5th ward was split and they were assigned to the 16th Ward where he served as Stake Senior Aaronic committee. They moved to Salt Lake City Nov. 1, 1958 where they lived at 549 De Soto St. and later moved to apartments near the temple: 122 Duplex Place. Calvin served as Stake Patriarch to the Salt Lake Stake and was class leader of the 17th ward High Priest group. Oct 10, 1968 was his last blessing which numbered 2,174 blessings he had given.
Due to sugar diabetes and ill health, Achsah and Calvin moved to California where he lived with Velma. He died Nov. 20,1969 in Palo Alto, Santa Clara, California and was buried Nov. 22, 1969 at Wasatch Memorial park, Salt Lake City. Utah. Achsah, moved to Pocatello and stayed with Calvin and Frances. She died of a stroke, January 18, 1971. She was buried by the side of her beloved husband, Calvin.