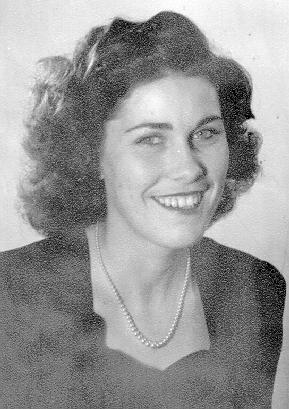 Velma McOmber.
Born February 26, 1927. In the month of love, came the long awaited girl of the family, the eighth child of Achsah and Calvin. She was the Valentine and the family sweet heart. She attended Roosevelt Elementary School in Pocatello Idaho, Irving Jr. High and Pocatello High school and later to Albany High, California. She was a University of Utah Home Economic Major and joined the Lambda Delta Sigma church sorority. During high school she would pal around with her brother David. "Sis" was her nick name, would go dance with her brother. Once David even bought her a lovely dress for the prom.
Velma grew up in Pocatello, Idaho and spent many hours helping her mother inside the house, not so much out with her father. She remembers how wonderful it was to have a Patriarchal blessing from her father. It has been a great source of comfort and guidance in her life. As she grew up she would visit her older brothers and help babysit their little ones. When Merial had Bryant, she went to Albany California to help her and attended high school there. It was at one of the church dances that she met a handsome young man named Clarence Teerlink at Lawton Sunset Ward, Berkley Stake on June 30th. On July 2, 1944 he was off duty from his Navy ship when he asked her out on a date. She replied, "I will have to ask my brother Ferryle first". Ferryle said it was alright and so he took her to the July 4th, independence Ball. Later he went out to sea and when he returned he invited her to the performance Desert Song. She was amazed he was able to get tickets at such a late date. Clarence was determined and ended up getting them in the orchestra pit.
Clarence completed a mission to Tucson, Arizona, in Spanish USA as well as two years in the Navy. They were married June 27, 1947 by Elder John A. Widtsoe of the council of the twelve in the Salt Lake temple. The wedding breakfast was at the Teerlink home at 273 No. State St. and a reception at the Lion House. They have been blessed with four wonderful children: Suzette, Clarence Jr, David, and Richard.
Clarence and Velma have been true to the faith and have served in many leadership positions. Relief Society President and Bishop are some of the many callings they have served in. Today they are temple workers in California.