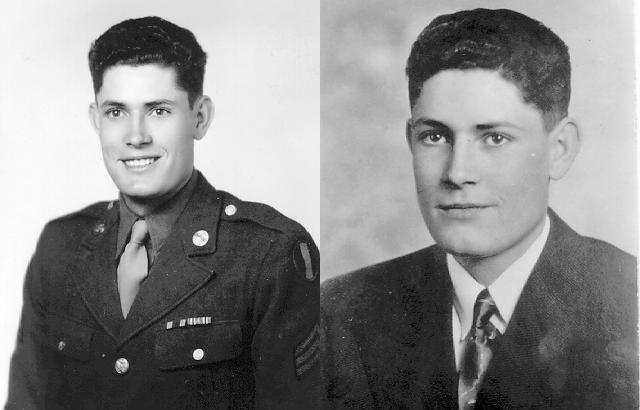 David Ivins McOmber, seventh son of Achsah & Calvin Sr.
Born January 24, 1923 Oakley, Idaho. He relates: "As the seventh son of Calvin D. and Achsah S. McOmber, I was born and lived in Oakley, Idaho for two years. Our family moved to Alameda, a suburb of Pocatello. We lived there for six years. Father built a new house on a sixty acre farm about three miles north of Pocatello on Poleline Highway the last year that we were in Alameda. We moved into that house which became our home that I lived in until July, 1944 at the middle of World War II. I went into the military service as a Private in the Army Infantry.
The family established a dairy soon after we moved onto that farm on which I had many rich experiences, most of which was learning the value of family and industry. The church was the central focus of our lives.
Shortly after settling on the farm, my oldest brother went on his mission to Czechoslovakia. Each brother followed in his turn. When it was my turn to go, the great and dreadful World War II was raging and all young able bodied men that were no deferred were called to active service. At that time I was deferred due to my involvement in a vital industry, that of producing milk. At that time I was managing the dairy farm. I felt that I should enlist along with my older brothers, Winston and Adrian. Adrian did not pass his physical due to a hernia. Winston and I both were sent to Infantry Replacement Training Centers (IRTC). Winston went to Fort Hood, Texas and I went to Camp Fannin, Tex. We were about 150 miles apart, but never got to see each other until after the war was over.
I spent 18 weeks of intensive military training and I was asked if I would consider remaining at Camp Fannin as a non commissioned officer training new recruits. It didn't take me long to accept the offer. There were only eight out of more than one thousand men, who were given this choice. Army life was so much easier than the dairy farm. It was actually quite enjoyable."
David was discharged from the army in July 1946 and decided to head for Logan where Adrian was living. He enrolled at USAC, Utah State Agricultural College. He stayed with Aunt Daisie, older sister to Achsah. He received a scholarship since he had been a veteran plus and extra $120.00 a month living expenses. His joy was complete when he met and married the beautiful Rachel Baird from Payson. They were married on April 10, 1947 in the Logan temple. Rachel taught school until David graduated in industrial arts two years later. He received many awards as a track star.
Six wonderful children were born to them: Val, Marilyn, Julee, Mark, Becky, and Paul. David loved to build homes and made many beautiful ones. He taught industrial arts at Elsinore, Olympus Jr. High for ten years, Heber High, Lincoln Jr. High, and then moved to Provo. Later, he went into building full time. He built over 16 homes in Utah county alone. He was in the building business for over 40 years.
"I built a beautiful home in a choice location near BYU, 1089 Cherry Lane. We lived in this home for twenty years. Rachel's school became the most successful advanced Pre-school in the county if not the state." It was called Peter Pan Pre-school.
David served as a Bishop, teacher, temple worker, and active in all he was asked to do in the church. He was true to the faith and devoted to his God, his wife and family, and to his country. This gentle giant died suddenly of a heart attack while serving at the Mount Timpanogos temple February 1, 2003. His last desire was to build a beautiful home for his queen Rachel, located at 1524 East 1110 No. Stafford, Orem, Ut. 84097 We all will miss him and love him and know he is on another mission in heaven.