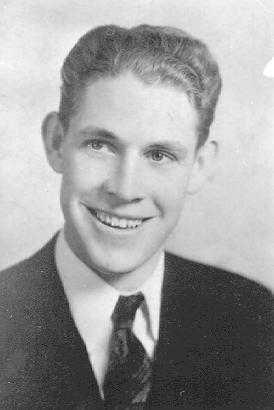 Winston, fifth son of Calvin and Achsah.
Born December 27, 1918 in Oakley, Idaho. Served a mission to the North England States in 1940 Winston relates, "My parents, Calvin Delos McOmber and Achsah Stout McOmber had been driven out of Old Mexico during the Poncho Villa Revolution in 1912. With their two son, Calvin of two years and Emerson of six months, they traveled north to Cache Valley, Utah, where father tried to find employment. They learned about an opportunity to homestead some land near Oakley, Idaho where the government had built a new dam for irrigation. Taking Marinda, father's mother with them, they traveled northward over one hundred miles to Oakley in Cassia Co. Idaho. A long hard struggle for survival followed for the next ten years. Five more sons were born including Arthur, Ferryle, Winston, Adrian,and David. Without steady income and ten or so people to feed while living in a very small house, they were reduced to living on whey from the nearby cheese factory. Our clothes were made by mother and we went barefoot. We had a dapple grey horse named Barney that my older brothers rode as they herded cows on the open range. We moved from Oakley due to the water problems. The soil was volcanic ash and the water would disappear before it reached the farms, causing water conflicts among the recipients
To avoid conflicts, father sold his farm of twenty one acres and moved to Pocatello. We left on an old model T truck. I road with grandma Henrietta Stout. My brothers went on top. Our dog Shep jumped off the truck and went running back to Oakley. "Stop the truck! we all yelled. We stopped and went back to find Shep and proceeded to Pocatello. Mother road the train with David to Pocatello from Burley, being just ten miles south-east from us."
The first home they lived in was a rented home at 228 Roosevelt, Alameda Idaho in 1925. Winston attended Roosevelt Elementary School and later the family moved to 2711 Pole Line Rd. His father built a sturdy white framed home there and they rented a farm from S.E Brady. There they lived and started the McOmber Dairy. Winston served a mission to the New England States mission in 1940. At church, he later met Louise Tyler and later were married June 5th 1944. After one month of marriage the U.S. was a war and called him to be in the army. At training camp in Texas he saw many men faint from the heat but he was used to hard work and was more accustomed to challenges.
He was sent to the front lines of the war. "My life was spared, though I saw many friends die. I was one of about 12 men left after the battle of the Bulge. We marched through Europe, from the Netherlands, to France. It was a bad time of my life."
After the war Winston returned home and attended the University of Utah, graduating in 1948 with a BA in Social Studies. He taught school for twenty years. Winston has served four stake missions and three full time missions and has been a temple worker and sealer at Salt Lake temple and Jordan River temple Utah. He and Louise have served in the Manila Temple, Philippines and the Manchester, England mission. Their children are: Brent and Bruce, Linda, Karen, Tyler, Steven and Stanley.