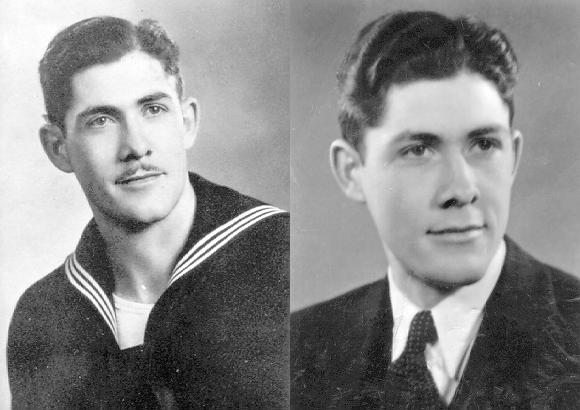 Ferryle McOmber, the missionary.
Born October 30, 1916 in Oakley, Idaho Fourth child of Achsah & Calvin Joined the Navy in 1942 (left picture) 1937 left for a mission to Germany, (right picture) and attended Idaho State College & Berkeley
Ferryle relates: "Father was well liked and a well spoken man. He did not have a lot of formal education but he was well read and a real gentleman. Father was offered teaching positions because others could tell he was well versed. He was an example of a self made man. He gave great speeches. We all respected him. His mother was a grass widow, or in other words, was left by her husband. So they had limited funds and he had to work hard for everything.
When we left Oakley, it was so very hard for me. I really liked the people of Oakley. Everyone was so congenial and everyone liked everybody. My father, Calvin Sr. was a farmer, so we had horses to ride, crops to harvest, and chores to do. I grew up with lots of work to keep me and my six brothers busy before and after school. We moved to Pocatello in 1924. It was a hard adjustment for me to move to Pocatello. It took quite a while to like it there.
During the McOmber dairy days, I remember getting up early in the morning at 5 a.m. to get to the Bannock Hotel. We had quite a delivery route, to stores, restaurants and the Bannock Hotel. Mr. Brady owned the Bannock Hotel and had a great respect for Father. We had to get up early because father wanted the milk to be cooled and fresh to get to Mr. Brady before breakfast. Mother masterminded the care of the milk. We had five gallon cans of milk and that milk was well cared for. It was strained and cooled immediately after milking and put in the refrigerators. The dairy saved us economically. It provided us with educations and missions. We always had a good rating when our milk was tested.
In 1937 I was old enough to go on a mission and left college to do so. In the spring of 1942, I joined the Navy because the U.S. was at war against Germany and Japan. Before the war ended I had met and married Merial Lambert. It was during the service for the US government that I met Merial. I was a simple service man for the Navy. . . and what a cultured lady she was! We were posted in San Francisco." It was Merial "Patriotic Duty" to go to help out with the dances. They were married in 1943 in the Chapel of Chimes, Oakland, by Bishop Nalder of San Francisco ward. In 1944 they were sealed in the Idaho Falls temple by President Kilpack. They had five children: Bryant, Michael, Robert, Martin, and Meri Kathryn.
Uncle Ferryle attended Idaho State So. Branch (now Idaho State University) of Pocatello, Idaho. He attended the University of California at Berkley where he graduated. He taught school and took a sabbaticl and toured Europe. He has filled many church callings, some being bishop's councillor, temple worker teacher. One assignment that was a thrill to him was to deliver his older deceased bother, Calvin's patriarchal blessings to the saints of Czechoslovakia. He delivered to President Snedelflier the blessings Calvin had given to the saints while he was there. What a thrill this was to help his older brother and see the Czech people in person.
Ferryle passed away from Alzheimer's disease at the home of Alyce Morgan, his care giver in Ashton, Idaho on December 7, 1999.