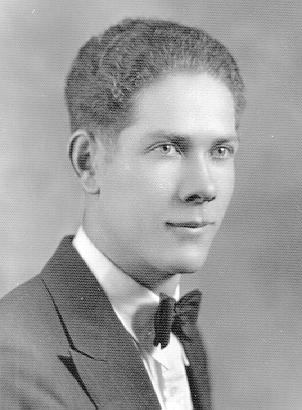 Emerson McOmber 1939.
A young missionary to the Southern States, 1934 He was a District President in Florida. Born January 24, 1912 in Guadalupe, Chihuahua, Old Mexico. He was the second child of Calvin and Achsah.
Emerson writes:
"My parents, Calvin Delos and Achsah Stout McOmber, were living in the small Mexican colony of Guadelupe when I was born in January of 1912. There were two main colonies, Juarez and Dublan, and at least six others which were populated mainly by polygamist families. I was six months old when notice came from the Church leaders to gather what belongings we could and board a freight train that would be passing through Casas Grandes and on to El Paso, Texas. There we would be provided with food and shelter.
From Mexico my parents moved to Oakley, a little town in southern Idaho. We lived there for eleven years. We had the barest necessities of life. My older brother and I herded cow in the summer and went to school in the winter. From Oakley we moved to Pocatello, Idaho.
While in Pocatello, I helped my folks with our dairy and went to school. I was starting center on Pocatello High school basketball team. We won the state championship in 1929 and played in the national tournament in Chicago, which we nearly won. After high school I attended the University of Idaho Southern Branch where I also played basketball. After a game against B.Y.U., I was asked if I would be willing to play on B.Y.U's basketball team. I accepted the invitation and went to Provo in 1932. Our team won the Rocky Mountain Conference championship. I graduated from B.Y.U. with a B.A. degree.
On January 2, 1934, I left for a mission to the Southern States. This was the beginning of my adult life. Legrand Richards was my mission president. I was blessed to be his personal secretary for ten months of my two year mission.
From a letter dated June 15, 1935, Emersons wrote: "Today is Father's day! I know that no written tribute will have any value unless I live the same tribute myself. I could never convince you that I honor you so long as I was bringing sorrow to your heart for the way I live. I assure you that there has been nothing that has given me more determination to fill a good mission than to think that what I did here would fill your hear with happiness. Your teachings by precept and example have inspired me, and I know that the noblest man that I can make of myself would no more than repay you for your love and devotion. I have learned lately that in my life I have appreciated least the things which have been my greatest gifts. The more sensible I get the more I honor you and see what you have done for me. It is my desire that when my life is over it will stand as a monument to you and mother. Every day a part of a tribute is being written by the son or daughter who lives the teachings of a righteous Father or Mother. I hope I am writing the tribute that you would have me write. Well, Daddy, you have certainly been great to us! It is my constant prayer that you will be with us many years to inspire and instruct us. It will thrill me through and through to be with you again.
I suppose that you have been doing a little paying lately, haven't you? Did you miss me? Shucks, I know you are getting along better with me gone. I'll bet I could help the surplus milk situation as well as anyone could. Gee, to think of taking a quart of milk and going after it without having to put down twenty cents - I can hardly feature it!"
The next great event was meeting, courting and marrying Jose Tindal. We lived in Pocatello for seventeen years after we were married. Our six children, Emerson, Carolyn, LeGrand, Nancy, Evelyn, and Ann were all born there. I served as Bishop of our ward for 8 years. In 1956 we moved to California. For several of the years we lived in Palo Alto. I served on the stake high-council."
Josie and Emerson served as Temple Ordinance Workers for over 20 years.