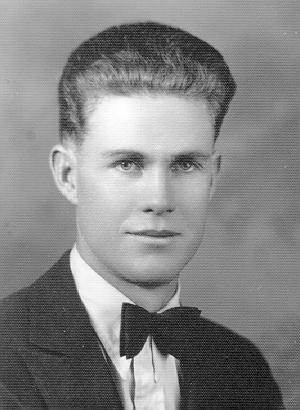 Calvin Delos McOmber Jr., missionary to Czechoslovakia, 1933.
Calvin was the first born child of Achsah and Calvin. He was born in Groveland, Idaho April 11, 1910. Calvin and Achsah had looked for work there but decided to go back to the Stout family so they moved to the Mexican Colonies.
"I was born in Groveland, Idaho, 11 April 1910, the first child of Calvin D. and Achsah Stout, whom he had met and married in Old Mexico, and came north to SLC to have their sealings done.
After spending the winter in Groveland, the family returned to Old Mexico, where the second boy, Emerson, was born. We were driven out in the Revolution of 1912 and settled in Logan, Utah for a year or so. Later, we moved to Oakley, Idaho, where I attended grade school and first year of high school."
Calvin Jr. said the only thing he remembered of the colonies was a big black steam engine. Most likely it was the journey from the colonies during their exodus. He knew exile in El Paso with his parents, then the journey to Logan while his father worked at the agricultural college, teaching carpentry. He knew the trials of the dry farm in Oakley and the joys of new brothers and sisters being born.
"In 1925, our family consisting of our parents and their seven sons, moved to Pocatello, and I have lived here since, except for a few years of schooling at BYU in Provo and a tree and one-half year mission in Czechoslovakia.
My brothers and I were fairly successful in high school activities and college, particularly in basket-ball. In 1929 our basket ball team won the State Championship and played in the International tournaments in Chicago, in which my brother and I participated. Bill Thomas, brother-in-law of our secretary, was on the same team.
After two years at U.I.S.B. (predecessor of ISC and ISU) I went to Czechoslovakia on a mission where I served under Arthur Gaeth from December 1932 until April 1936. Since returning I have been active in the Pocatello Stake Mission, in the 5th Ward Bishopric, Pocatello Stake High Council, West Pocatello Sake Presidency, and at present, am West Pocatello Stake Patriarch.
At 27 years of age, I married Frances Brodil. To this marriage five children were born, three boys and two girls, of whom four are still living.
My favorite songs are hymns, although I do love operettas and operas. Perhaps the song that most consistently thrills me is "I Stand All Amazed." (Calvin had a most wonderful tenor voice and sang in the ward choir)
My favorite readings are in the New Testament, Book of Mormon, Doctrine and Covenants and Pearl of Great Price. Specific passages are I Nephi 3:7, John 17-3-5. I like the Gospel of John for feeling and Gospel of Luke for information on the life of Christ. Matthew gives inspiration through his sermons.
In my leisure time I enjoy reading and carpentery work. Other interests are the study of Anatomy, Physiology, and Chemistry, and visiting the members of the Aaronic Priesthood over 21.
Having studied and taught in various fields on High School and College level, Chemistry, Anatomy, and Religion, I find teaching religion at the Institute is the most challenging, interesting, and rewarding work I have ever done."
He relates:" The Calvin Delos McOmber family began the McOmber Dairy after a family Council in 1927 in Pocatello, Idaho at the corner of Cedar and Pole Line Rd. "Old Bawley" was the cow we brought from Oakley, Idaho. The milk was so good and fresh, more and more neighbors requested to be costumers. More cows were bought and a 55 acre farm was leased. It was very hard work milking 20 to 50 cows by hand every day. Milk routes were early and seven brothers all worked together."
Calvin attended the college in Pocatello, called the Southern Branch (now known as Idaho State University). He received his MA at BYU in educational administration. After serving his mission, he married his beloved Frances of Prague, Czechoslovakia, April 30, 1937. He was a teacher during the winter and a carpenter during the summer, caring and maintaining many apartments. He lived at 2715 Pole Line Rd. until he died November 5, 1980. Frances and Calvin had five children: George, Frances Marie, Calvin, Charles, and Ruth.
He taught seminary at Pocatello High School and institute classes at Idaho State University. He served a mission to Czechoslovakia as a youth for three years, and went on three mission assignments to Czechoslovakia under President Kimball while the iron curtain was still up. He devoted his time and talents to the kingdom of God here upon the earth fulfilling many assignments and missions for the church. His last years were spent doing temple work and being in the temple presidency of the Idaho Falls temple with John Groberg where he was a sealer. He was a patriarch for the West Pocatello Stake. His Gospel Doctrine Classes in the 16th ward were wonderful.
From Ruth we read: "We love and adore the dearest father a family could ever have. He loved his country, his family, his angel Frances, and the Gospel of Jesus Christ. We will forever be grateful for his many contributions to us! If I had a wish I could give all the children of this world it would be this: That they could have parents as wonderful as I had! This world would be a much happier place for sure! Memories of my fahter are many and delightful. We would sing on the trips that we took. His favorite ones he sang to my mother were: Let Me Call You Sweetheart and I Love You Truly. He loved the hymns and we would sing, Abide With me, Tis Eventide. His strong and clear tenor voice was so beautiful to me. As a child I would sing to to him "I'm So Glad When Daddy comes Home". Once he taught me the little song to sing for Grandmother's talent shows she had for the grandchildren. I sang the song father taught me: "A Rose peeped over the garden wall to ask a little brown bee to call, Oh hide, Oh hide the little bee cried, just see how the people are staring!" He said a little poem about the little mouse who became sick because he could not share with his brothers. Daddy was a Mr. Fix it around the house. He could fix anything from carpentry to plumbing, painting or gluing to milking a cow. My father was a very capable and hard working man. But the most enjoyable gift my father had which I love most, was his ability to teach the gospel and his love for the Savior, Jesus Christ. My favorite classes at ISU were from my father at the Institute of Religion. He is a born teacher. He is concerned about others and their welfare. He is a great servant to Christ's Church upon this earth, namely, The Church of Jesus Christ of Latter-Day-Saints.
Daddy was a great teacher by example and he loved my mother. He was a good provider to us children too. He provided love and a firm hand of discipline if we needed it. In times of illness Daddy was there calming with his strong arms and sympathetic understanding, and gave us priesthood blessings for health. What did I do to deserve such a great father and mother? I do not know, but I thank my Heavenly Father for the royal heritage He has blessed me with!
Love, Ruthi, beloved daughter. An Article from the Student LDS Institute paper, ISU 1975: What was said about Calvin D. McOmber when he retired from the Institute of Religion, Idaho State University Pocatello, Idaho: "For twenty years, Brother Calvin McOmber has served as Instructor and Associate Director for the Idaho State University, Pocatello, Idaho. His retirement following this 1974-75 school year will be highlighted by a special evening in his honor. All those interested in helping to honor Brother McOmber should contact Dr.Craner. Calvin McOmber Honor Night will be Tuesday, May 6th at 7:30 p.m.
Brother McOmber has enjoyed a liftime in teaching. His opinion of education has, however, has been on a higher plain than that of many of his peers in the Education Profession of the world today. After teaching one year at the high School level (Pocatello High School Seminary), Brother McOmber advanced to the college level, where he taught five years of chemistry at Idaho State College. Many people were surprized when he resigned from the very prestigious position he held in the Chemistry department to serve in the field of Religious Education. His reply to the dean was: "I would rather try to teach people how to live than how to make a living."
Brother McOmber has never placed any position in life above those he holds in the home and in the church. He is the father of five children and has 11 grandchildren. He currently is and has been the Patriarch for the Pocatello Idaho West Stake for 16 years. That Priesthood calling and ordination came under the hands of Harold B. Lee on April 15, 1959.
What will Brother McOmber do now with all his spare time? "I would like to spend more time as a regular officiator and sealer in the temple. I would like to double or more, my temple service time". In addition he plans to spend more time with his hobbies such as carpentry and reading. He promises more work on his genealogy and perhaps some traveling as well. At any rate, you will never catch an inactive Brother Calvin McOmber. Service has been too much a part of his life to account for that!" From the LDSSA News Letter, April 24, 1975. August 18, 1980 Tribute to Calvin D. McOmber Jr, by Josie P. Condie (mother to Spencer Condie, of the 70's) 16th War, Pocatello, Idaho.
"We have known Brother McOmber since we were Freshmen in college and that is a long, long, long time ago. After college I returned to Preston to teach school and marry Spencer Sr. A few years later we met our old friend Glenn Taggart who had just returned from serving as a missionary in Czechoslovakia. Among other things, he told us that a beautiful Czech girl, Francis, had accompanied him home on the boat and was going to marry Calvin McOmber of Pocatello. We were interested. Twenty five years ago when we moved to Pocatello and went to church, who should greet us but, Calvin McOmber. We were delighted to renew our friendship. Calvin introduced us to "my angel wife, Francis". To know Francis is to love her and its easy to understand why Calvin calls her "my angel wife." My husband doesn't call me that.
We have been blessed as a family to have the influence of the McOmbers both in our lives and of our children. Their children and our children are close friends. Brother McOmber is our home teacher and he feeds us spiritually on each visit.
At the time of his retirement from teaching at the Institute, his close friends remarked that Brother McOmber had really lived a sheltered life. He spent five days at the Institute, Saturday at the temple, and Sunday was spent in church and giving Patriarchal Blessings. The last five years the McOmbers have spent most of five days each week in the temple.
By assignment from President Kimball, the McOmbers have made three visits to the Saints behind the Iron Curtain. In September they will again go to Czechoslovakia.
There is much more that could be said about this lovely, devoted, and dedicated couple, but Robert Louis Stevenson said it best when he said,
"He has achieved success who has lived will, laughed often and loved much. Who has gained the respect of intelligent men and the love of all children. Who has filled his niche and accomplished his task with dignity and respect. Who has always looked for the best in others and given the best he had. Whose life is an inspiration to those around him. Such is our friend and brother: Calvin D. McOmber Jr." From another Friend: Wanda Harper Hollingsworth (teacher of Home Ec. at Pocatello High 1960)
"The McOmber family moved into Oakley in 1917. They were one of the families driven out of Mexico. Calvin was then seven or eight years old. They were very poor and lived in a two room house on the flat above the graveyard.
My first recollections of the family was when they came to church and school with very clean and well worn clothes. I thought they were the tallest skinniest boys I had ever seen.
We (the old settler's children) would call them "the lard eating kids from Mexico". They ate what looked like lard on their bread, but which I was told was uncolored margarine.
Calvin and I were always among the pupils who had to stay in after school for talking. Recently he let me know it was because we were so honest.
The family moved from Oakley when he was either a Freshman or a sophomore in High School. They came to Pocatello. One night when I was a freshman at Ricks, College, he came up with the Basket ball team to play Ricks. I was flirting with the boys and he did not approve of what I was doing at all!
Since then we have had more contact. I had his daughter in class when I taught at the Pocatello, High School. I am a great admirer of he and his wife. If you want more details of his early life, contact Relin H Paskett, Box 175, Oakley Idaho 83346 for they were friends through childhood. They lived as neighbors."
When Dad, (Calvin) retired from his teaching Institue work, there was an honor's evening and here were some of the letters I found, which are interesting: Arthur relates:"As a brother, Calvin has set a fast and ideal pace for each of his six younger brothers to follow. When young, Calvin. . being the oldest of a haying crew, was given a choice of having Sunday off or July 4th. Without hesitation he said "the McOmber brothers will work July 4th, but not on Sunday.:"
A humorous story about Calvin, from his wife, Frances: While Calvin was serving on his mission in Prague, Czech., he and his missionary companions liked to dine at a vegetarian's restaurant. This was always a short time to rest from tracting, speaking the difficult Czech language and other pressures.
One day a young lady entered the diniong hall which was over crowded with guests. Unable to find a place to sit down, she asked the elders if she could sit at their table. Calvin said in English, "She is good looking, but a little too heavy." They had fun talking in this manner back and forth. After awhile, the young lady looked up from her meal and said: Please, pass the salt" in perfect English.
His Brother Adrian relates:
I worked with Calvin in the dairy and cherish those memories very much. I worked with him a short time before going on my mission. World War II had just broken out with the U.S. only four months before I left. Soon Calvin was short handed for help because there was a shortage all over. Many men had gone into the service. Calvin worked many hours a day and became exhausted and could not sleep well. Frances became very concerned. When I came home off my mission we continued in the dairy but could see it would continuie to take much work even on Sundays so we decided to sell. During the time in the dairy, Calvin had to keep the dairy going while some others had differences on methods and decissions. Calvin was very considerate of others feelings and always asked for their opinions. I usually agreed with Calvin and supported him in what he was doing.
Calvin was quite considerate of hired help but was persausive and required good performance. Calvin put in very long hours. He was short tempered with himself when he made a mistake. He hardly ever allowed himself to make mistakes and accepted as a normal consequence of doing the usual work of every day activities. Calvin was considerate of my mistakes. We finally decided to sell the dairy. I have been happy we did for all of us and especially Calvin. It had been a heavy burden on him since he left school and worked in the dairy. Love, Adrian.
Uncle David writes: Dear Ruth,
"I can not do justice to Calvin nor you in this short time. It would take several weeks to write the things I would like to say with the amount of time I could use for this. However, here are a few memories: The first I can recall Calvin was when he and Emerson played basketball at high school and how happy I was about being his brother.
I remember him teaching me how to drive the horses. I was about nine years old. The steel tired wagon jolted sharply as we went over bumps and rocks. He showed me how to bend my knees and stand on the balls of my feet (not flat footed) so they acted like springs to absorb the jolts. Wehn I was about ten years old, Calvin drove the school bus that came by and picked us up for school. I was happy to have him as our bus driver. At first when he would sing as we went along some of the kids laughed but soon got used to it. I felt uneasy until the kids accepted the singing as OK.
When I was about 11 or 12 Calvin and Emerson went off during the summer (maybe longer) to work on the section gang for the railroad. I remember they sent a picture home with one of them cutting the other's hair. We were all delighted to get it. Then after Calvin had gone to college about a year or so he was called on a mission. I remember he got out a map to see where the place was with what seemed to be a very strange or at least an unusual name. There was excitement and keen interest in the ward as well as our family concerning his call to Czechoslovakia. Many of us could not say it right let alone spell it. Very few had been called on missions because of a severe depression. Funds were low.
We had a "new" chapel which Calvin had helped to build. The 5th ward was growing but people were not able to find jobs except we had plenty of work on the dairy farm that kept us plenty busy with chores before breakfast and after the day's work was done. Fourteen to sixteen hour days were common except Sundays. Calvin was asked to stay an extra six months two times. We always anxiously waited for his letters. When he finally returned home there was a lot of requests for him to speak at many wards.
Soon he was asked to organize a stake home mission which he became the president. Calvin soon started back to college and decided to study medicine. He went to Idaho State University then on to University of Utah and Medical school. During this time has asked Francis to marry him. We were very happy to have Frances in our family. She has always been so gracious and beautiful.
During Medical school, Frances Marie, their baby daughter died. It was a terrible shock which always grieved them. Mother wrote and asked Calvin to come home and build a new dairy plant during the summer which Calvin did but never returned to medical school. This in my opinion, was a mistake for the family to ask him to do this. He lost his chance for a distinguished career in medicine."