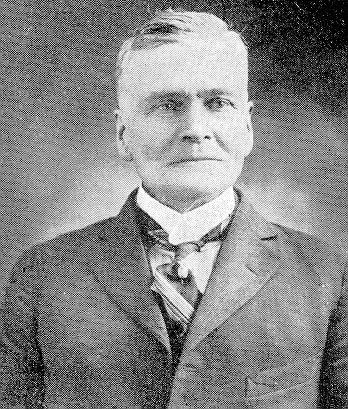 David Fisk Stout
Father of Achsah and a great pioneer of Utah. Born February 3, 1855 in Centerville in a wagon box, Davis Co. Utah to Joseph Alan and Amanda Fisk Stout. David Stout is one of the great men of our history. Achsah named her last son after him. Due to the valiant and upright life of our great grandfather, many have named their children after him.
When he was six years of age, his parents were called to St. George to plant cotton on a "cotton mission" by Brigham Young. Many of the southern saints went to "Dixie" to start up the cotton industry of Utah. As a young man, he was called on a mission to be a builder of the Saint George Temple. There he met beautiful Henrietta Cox, known as "Rettie". They were married May 17, 1875 at the Endowment House, Salt Lake City by the apostle Wilford Woodruff. He was president of the YMMIA in Rockville. He later practiced the law of polygamy and married Rettie's two younger sisters, Julia and Sarah. On June 13, 1884 he married Mary Jane Terry and on June 18th, 1884 he married Julia Cox both in the St. George temple. He married Sarah Cox June 26, 1888.
May 25, 1886-1888 he was called by President John Taylor to serve in Minneapolis, Pennsylvania and Ohio. When he returned he was active in the Republican Party of Rockville, Utah. He served two missions. The other mission call: mission president of the Northern States April 13th, 1894.
David was a hard working man who owned his own creamery in Hinckley. He engaged himself in making lumber in 1889 at Mt. Trumbel, Arizona. However, the persecution of the marshals against the polygamists was so great, he decided to move his wives and children to the colonies of Old Mexico. David loved knowledge and education and all of his children had the opportunity to attend the Juarez Academy as it opened their doors in 1907. From 1912 to 1918 the family settled in Diaz. To support his large family, he raised fruit and became a traveling grocery man. Many trips took him to the San Pedro mines where he sold produce to the workers.
In 1912, the Mexican revolution forced the family to exit the colonies and their Diaz home was burned. He saw much tribulation during these years. He tried homesteading the four corner area with his daughter Daisie, but realized it was unsuitable for them. They left for Logan in 1919. He did gardening and temple work in Logan the remainder of his life. He died October 1, 1932 of cancer. He was known by his family as a dear and loving father, true to the gospel of Jesus Christ.