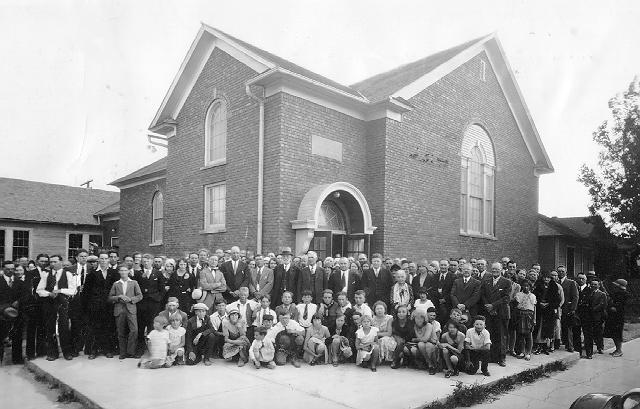 Dedication of the 5th Ward Church.
Pocatello, Idaho, 1927. Notice that President Heber J. Grant is in the center of the picture. He dedicated the building. It was President Grant that brought the Czech mission to Czechoslovakia. Many dedicated hours of building skills were given by the McOmber family to this great church. Missionary farewells, dances, parties receptions etc. were enjoyed here with our family.
On the back of the photo, Calvin Sr. writes: "Brother Don Miner had charge of putting the concrete foundation in, and I supervised the laying of brick and setting of doors and window frames. I made and dated the corner stone. I made the stone over the front door also the window sills and key stones and corner stones in the arch of the windows. All stones were of concrete. Calvin Jr. and Ferrin Hale mixed mud and waited on masons, brother Brimhall and Jack Palmer."