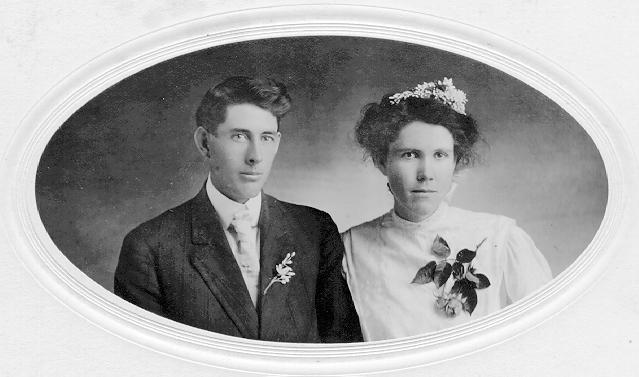 Newly Weds: Calvin Delos McOmber Sr and Achsah Stout.
Calvin Delos McOmber Sr and Achsah Stout
Married June 24, 1909. They were married in the home of David Fisk Stout in Guadalupe, Old Mexico by bishop Thurber. They met at church while attending the Guadalupe ward. Later, they traveled the long journey to Salt Lake City and were sealed in the temple by President Winder, October 7, 1909. After that they headed for Groveland Idaho for work where they lived with the Hale family. Groveland is where their first son was born: Calvin D. McOmber Jr. They longed for their families of Old Mexico and moved back to the colonies. Calvin writes: "After spending one year in Utah and Idaho, our first son, Calvin was born April 11, 1910 in Groveland, Idaho. We went back to our land in Guadalupe, arriving Oct. 14, 1910 and expected to build a home. I was sustained as Sunday School Superintendent which position I held until we left Mexico. The school trustees met July 30, 1911 and chose me to teach school the winter of 1911-12. Our second son George Emerson McOmber was born Jan. 24, 1912 in Guadalupe. I was ordained a Seventy by Apostle Anthony W. Ivins March 23, 1912 at Colonia Juarez. On Sunday, July 28th, word came to us to be in Dublan at the earliest possible moment to take a train for El Paso, because of the Mexican Revolution. My mother was seriously afflicted with arthritis so I was urged to go and care for her along with forty other women and children. Our exodus from Mexico was one of great sacrifice."