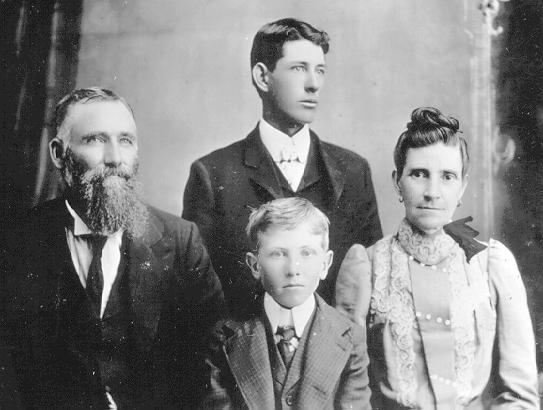 Arthur Benjamin Clark (left) with Marinda.
Arthur Benjamin Clark & Marinda Griffeth
Arthur B. Clark was a beloved step-father for Calvin when Marinda married him. Calvin D. McOmber Sr. stands in the back with little Leroy Hyde in the front. LeRoy's mother had died, so Marinda took him in as her own at birth. LeRoy was like a brother to Calvin. Calvin loved the Clark family and followed them to New Mexico 1902. Later, LeRoy died of Typhoid Fever in Mexico. Arthur B. Clark was born March 22, 1854 in Barking Essex, England. His family joined the church there. Arthur became a dentist about 1895. He was the presiding Elder of Star Valley, Wyoming and Bishop of Star Valley, in 1891. Later he was the Stake Patriarch. Calvin loved the Clark family and was treated as a brother to them.