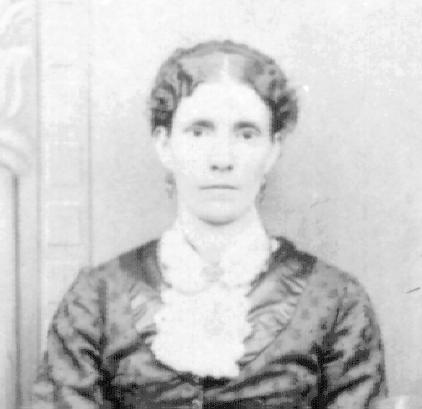 Marinda Elizabeth Griffeth.
She was born March 7, 1857 at Fairfield, Utah (Cedar Fort), fifth child of Elizabeth and Patison. She was four months old when Johnston's army resided near by at Camp Floyd. Her parents left to help settle Cache County where they settled at Hyde Park, Utah. She was baptized April 6, 1865 at Hyde Park, Cache County, Utah. She was married to H. Hobson as his second wife, May 15, 1876 and had one child, George who died. This marriage did not last.
Later, she remarried to Orange McOmber in 1884 as his second wife. They had two children: Elizabeth Marinda, known as Minnie, and Calvin Delos (our grandfather). Minnie died of whooping cough and pneumonia. Later, Orange deserted his families (Div.). March 12, 1902. This was a harsh blow to Marinda and Avilda (his first wife). After many hard years as a single mother, Marinda remarried to Patriarch Arthur Benjamin Clark. She was his fourth wife and they soon moved to Old Mexico. Calvin was sealed to Arthur B. Clark & Marinda, Oct 7, 1914 in the Logan Temple. The Mormon colonies were difficult years for Marinda. Her little nephew LeRoy who was like a son to her, died of Typhoid fever. Calvin also had the illness. She pleaded with the Lord to spare her only living child. (She had already buried two other children). Calvin recovered and regained his health. It was in the Mormon Mexican colonies that Calvin McOmber, her son, met and later married Achsah Stout. Marinda struggled with health problems and was an invalid later on in life. Calvin carried her to the train during the expulsion of the saints during the Mexican Revolution. She was skilled in making hair flower wreaths. She was a pioneer of Hyde Park and of Old Mexico. She sang alto in the choir and was an active church worker. She died June 29th, 1916 at the age of 59 and was buried at Hyde Park cemetery by her two children, Minnie & George. From her obituary, we read:" On June 29th, Sister Marinda Clark, wife of the well known dentist Arthur B. Clark, passed away after several years of great suffering from rheumatism. Funeral services were held in the meeting house on July 1, at 2 PM, Bishop C.G.Hyde presided. The choir say "Tho Deepening Trials and the prayer was offered by H.W. Hancey. . .George spoke of the honest, cheerful, and pure life of Aunt Marinda. Bishop Hyde said she was one of the first pioneers of Hyde Park and had fought a good fight and was entitled to all the blessings of the Celestial Kingdom."
From her Patriarchal blessing we read, : "The Lord has heard your prayers. He has witnessed your tears and the many sacrifices thou has been called to make and there is better days in store for thee. His angles have watched over thee and for every sacrifice thou hast made thou shalt be rewarded an hundred fold. For your whole trust is in the Lord and thou shalt be provided and beloved stand by the side of a man of God. Fear not for I seal upon thy head every blessing that thy heart can desire in righteousness. For there are many difficulties to encounter. But the Lord will open up the way. Thou shalt know the mind and will of the Lord and thy guardian angel will never forsake thee." From page 73 of the golden book, Tribute to Calvin and Achsah Stout, by Ruth McOmber Pratt