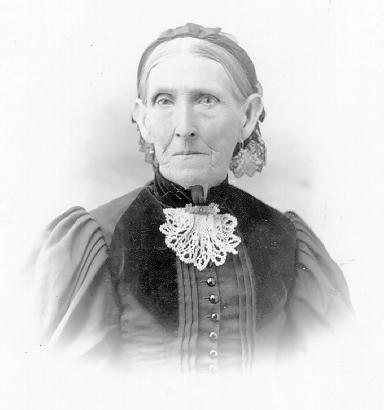 Elizabeth Carson Griffeth.
Elizabeth Carson Griffeth
Elizabeth Carson Griffeth, grandmother to Calvin D. McOmber Sr. Elizabeth was born July 7, 1822 in Lewistown, Mifflin Co. Pennsylvania USA to Ann Hough and George Carson. She was the fourth child of a family of eight. Her parents joined the church when she was young and they suffered many persecutions of the early saints. One night the mobs came to burn the homes of their family. They ran to the woods with their blankets and covered their children to shelter them from the rain that was falling. Their home was spared while many were burned out.
She saw the falling stars spoken of in Church history. She described them as flakes of fire falling like flakes of snow in a snow storm, remaining light until a few feet from the ground.
She married Patison Delos Griffith at Nauvoo, Hancock, Illinois April 26, 1846. Beginning on May 17, they crossed the plains from Nauvoo with the Garden Grove Company (also the Walton Co.) They were equipped with two wagons; one drawn by a yoke of oxen, the other by two milk cows to furnish them with milk and butter as they traveled. On September 19, 1851 she gave birth to Louisa Emily at Green River, Sweetwater, Wyoming. They arrived to the valley of the great Salt Lake October, 1851. After scouting to find a place to settle, they went with the Carson at Fairfield, or Cedar Fort, where Elizabeth's brothers,William, David, George, and Washington were located. Patison and Washington took up land outside the fort.They cleared the land, fenced and it and built two granaries and a small cabin.
On February 21, 1856, hostile Indians were a threat to their peace, killing George and destroying their machinery. Elizabeth, with her small family, watched the battle from the fort and saw her brother's white horse coming up the trail with his lifeless body thrown over the saddle. The Indians also returned and scalped Washington and a hired hand. Fortunately, Patison was gone to another settlement at the time, returning with grain from the mill. Elizabeth did not know for some time what had happened to her husband.
They had a hard time getting food and starting over after the Indian raids. Another threat to their peace came in 1857 when the corrupt USA President Buchanan sent Johnston's army to Utah. The army camped near the Carson settlement known as Camp Floyd. Over 5600 unwanted calvary came to settle outside the Griffith and Carson fort. It was this year that Marinda (Calvin Sr. mother) was born in Fairfield. John Carson had built a fine Inn (Stage Coach Inn) which housed General Johnston and other dignitaries.
It was 1860 when Brigham Young called the Patison Griffith & Hyde families to settle Cache Valley. Utah. Elizabeth had six little children at this time, showing a new baby Uraina born that year. Taking a trip to the Logan area was challenging at best. To get new roots must have taken tremendous work and sacrifice for her and her young children.
On February 7, 1863 she gave her consent for Patison to marry a second wife, Sarah Elizabeth. Sarah was a young convert from England, only 17 years old. Again, the faith of Elizabeth was tested. The U.S. marshals were sent to imprison polygamist. Patison took Sarah to live at a new settlement of Fairview, Idaho. The settlement was 1 1/2 miles north from the Utah/Idaho line on the Bear River. She was the first white woman to settle there. She was a great nurse, student, weaver and knitter. She had nine children.
Elizabeth raised a large family of eight children and was a leader in the Relief Society. She was a tall, stately woman with auburn hair and rich brown eyes that looked like velvet. She was rather quiet and a real homebody. She was devoted to the Church of Jesus Christ of Latter-Day Saints. She often wore checked waist aprons with cross-stitch trimming. She wore her hair combed neatly with a black lace cap and black drop earrings. Her house was one large log room, which served for bedroom and living room. She had two double beds that were always made with white spreads over them The chairs had white crocheted throws over them. She kept a very orderly and clean house. She was a bee woman, keeping many hives and gathering her own honey. A very tidy, caring woman, she raised her own food in her garden. While on a visit to her daughter Elizabeth's home in Star Valley Wyoming, she became ill. She died November 7, 1898. She was buried in Hyde Park, Cache, Utah. Her family loved her and honored the great legacy she left.