JohnPratt.com CD-ROM
by Dr. John P. Pratt
New v. 3.3 Release of 5 Jun 2017
Archive Quality CD-ROM keeps information 100 years (Verbatim Ultra-Life Gold Archival Grade)

Contains all 150+ articles and calendar programs on the JohnPratt.com website through 5 Jun 2017.

Totally self-contained, even containing a browser and java package.

Preserves 30 years of unique work. I'm over 70 and may not live forever.

Purchase includes free upgrade if requested at time of purchase if there is a new release within 6 months.
How to Buy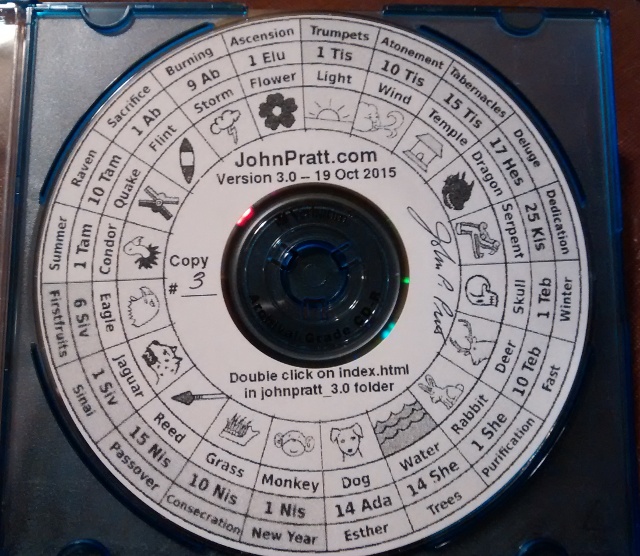 New Archival Quality CD

The CD costs $20 which includes shipping to the U.S. You can pay by credit card or using foreign currency by going to http://www.paypal.com, choose the "Send" tab and send the payment to the e-mail address: money at (use symbol @) johnpratt.com. Or send a check or money order to the address below. Additional copies requested with the same order are only $10 each. Add another $10 shipping if outside of U.S. If more than two copies are ordered, add another $5 shipping per order.

Also please specify that you want the CD. There is also a Wall Calendar available for the same price. If both are bought together at the same time and shipped to the same address, you save $5 off the total price.

Send to:

John Pratt
P.O. Box 413
Duchesne, UT 84021

Allow a week for shipping, or 2-3 months overseas.
Why Buy?
Dr. John P. Pratt has discovered and built a convincing case that God actually uses sacred calendars for scheduling key religious events such as the birth, baptism and resurrection of Jesus Christ. These discoveries have been published in separate articles over the last thirty years.
Some of those calendars discussed are straight day counts, such as the 7-day week and the 260-day Sacred Round of Native Americans. Some are based on the celestial motions of the sun and moon, such as the Hebrew calendar and the Enoch calendar. Other new calendars discovered include the Venus calendar and the Mercury calendar. Ample background is provided to understand the essential workings of these calendars in order to appreciate the incredibly precise clockwork involved in timing sacred events.
All of those articles are now available on a CD-ROM, which is essentially a copy of his entire website. All articles (over 150) are included, about half of which concern religious chronology. It includes all of his Meridian Magazine articles on other science and religion topics. Some articles are concerned with Biblical chronology, and hence could be of interest to any Judeo-Christian researcher. Many are addressed especially to LDS Christians, but should still be of interest to others. Click here for a complete list of the contents, with icons indicating the intended audience for each article.
The CD-ROM now has a search engine on it. It is identical to his website and even includes his Calendar Spreadsheet program for listing dates simultaneously on all 10 sacred calendars.
Why should you buy a CD-ROM if is all the information is now available free on the Internet? Because there are huge attacks even now against the Internet, and it is not at all clear that the Internet will always be available. The CD-ROM is totally self-contained, even including it's own browser which shows all of the articles and allows them to be printed in a good format, with the pictures all fitting on a page. If you wish to preserve your own copy of Dr. Pratt's works, the CD-ROM is highly recommended.
Currently Dr. Pratt is working on new calendars and upgrading the navigation of his website. If there is a new release within six months of your purchase date you will automatically receive a free copy of the update about six months after your purchase if you request it with the initial purchase.
My book Divine Calendars, which contained my first 25 articles, is been out of print and there are no plans to reprint it. All of the articles that were in it are included on the CD.