Astronomy Notes
Part 13: Multiple Stars and Star Clusters
John P. Pratt
Binary Stars
Optical Doubles
An optical double is merely two stars that happen to be nearly on the same line of sight.
The two stars are not physically associated in any way.
An example is Mizar (the middle star of the three in the Big Dipper's Handle) and Alcor.
Mizar and Alcor used to be an Arab eye test, which is strange because it's a very easy test now.
Optical doubles are not important in astronomy, so no more will be said about them.
Binary Stars
The word binary is used for stars which are in orbit around each other.
They represent the first discovery that gravity is at work outside of our solar system.
They are more common than single stars--over 2/3 of stars are in binary or multiple systems.
They provide the best way to determine the mass of stars, by using Kepler's Laws.
They are discovered in many ways, which leads to many different classifications of binaries.
Visual Binaries
Visual Binaries can be seen in a telescope to be two separate stars.
Even large telescopes are limited to about 1" of arc separation by air quality, the same as a telescope with only a one foot diameter mirror.
There are many beautiful visual binary stars, with stars of very different colors.
The brighter component is labeled A, and the dimmer B, as in Sirius A.
A nice double star in binoculars is Epsilon Lyrae, which is within one degree of Vega.
Mizar (at the middle of the Big Dipper's handle) is a visual binary in small telescopes.
One beautiful pair is the blue and yellow Albireo, the star which is the bottom star of the the Northern Cross.
Spectroscopic Binaries
Some binaries are too close to see visually but can be discovered by red shifts in their spectra.
That is, one or both of the stars can be seen coming toward us or moving away from us.
To have such a fast orbital motion always means that they are too close to be a visual binary.
Both of the visual components of Mizar are also spectroscopic doubles.
Eclipsing Binaries
Eclipsing Binaries pass in front of each other, which dims the light coming from them.
From the light curve one can deduce their relative sizes and positions.
Most are also spectroscopic binaries, so we can get a lot of information about them.
Algol, the head of the Medusa which Perseus holds, it the most famous eclipsing binary.
The primary is a hot blue star with M = 5, secondary is an orange giant with M =1.
It dims by a full magnitude in only 4 hours, every 2.9 days, when the giant star eclipses the brighter star.
Evolution of Binaries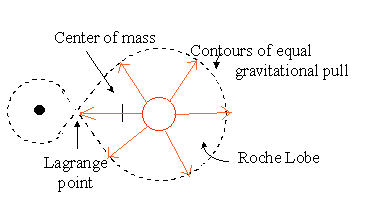 A figure "8" called the Roche surface can be drawn around the two stars.

Each half of the figure is called a Roche lobe.
The point where the two lobes meet is the point of equal gravity between the stars.

When a star expands as it evolves, it can fill its Roche lobe.
When it does, matter streams through the equal gravity point onto the other star like sand through an hourglass.
Sometimes over half of the expanding star can transfer onto the other stars.
That what apparently happened on Algol: The orange giant was originally the more massive.
Contact Binaries
If both stars fill their Roche lobes, it is called a contact binary.
The periods of orbital revolution are usually less than 2 days.
Their evolution can be complicated, and they can be very unusual stars.
Novae
A nova is a star that flares up in much increased brightness.
The explosion is not nearly so violent as in a supernova.
It is believed that all novae are binary stars, and that one star is expanding through its Roche lobe, transferring hydrogen onto a white dwarf.
That hydrogen is greatly compressed and can explode with nuclear reactions.
If the matter falls on the white dwarf fast enough to exceed the Chandrasekhar limit, the white dwarf could also explode as a supernova.
Binaries with two jet streams
Some binaries have huge jets of gas shooting out of both sides, with velocities of 25% of the speed of light.
These give off X-rays and gamma rays.
The star producing the two jets is orbiting around another star.
Epsilon Aurigae
One weird binary is the star which is the goat that Auriga (the Charioteer) is holding (epsilon Aurigae).
The primary is a yellow-white super giant, as large as the orbit of Mars.
Every 27 years it is eclipsed by a huge disk of dust for 2 years, absorbing half its light.
It now appears that at the center of the disk is a close binary that stirs up the dust dumped onto it by the supergiant.
The search for Planets around other stars
Astronomers have hunted for years for planets around other stars.
They have tried to find them mostly by looking for oscillations of a star around invisible companions.
In the last few years, it is believed that several have been found.
Star Clusters
There are three basic kinds of clusters, based mostly on how tightly clustered the stars are.
An association of stars is so loosely packed that it is not even held together gravitationally.
An open cluster is a moderately close-knit, irregularly shaped group of 100-1,000 stars.
A globular cluster contains about 100,000 stars and is distinctly spherical shaped.
Associations
Associations are being ripped apart by galactic tidal forces, even as Saturn's rings are particles that are separated by Saturn's tidal forces.
They often have an open cluster at their center, which is still gravitationally intact.
There are two kinds of associations, formed of rather different types of stars.

O associations are composed of O and B stars (huge blue stars, often in gas).
T associations are composed of T Tauri stars (giant red stars with dust clouds)

An example of an association is the head of Perseus; it is a beautiful field in binoculars.
The four stars at the center of the Orion Nebula (the Trapezium) might be a tiny association.
Open Clusters
The nearest open cluster is the Ursa Major cluster, which include all but the end stars of the Big Dipper, being about 70 l.y. away.
Some have suggested that our sun may be part of the Ursa Major cluster.
The Hyades and Pleiades (Seven Sisters) and Beehive are some of the next closest open clusters.
Open clusters tend to be found in the plane of our galaxy; hence they are sometimes called galactic clusters.
Globular Clusters
Globular clusters are tightly gravitationally bound, being nearly spherical shaped.
They typically contain many stars evolving off the lower main sequence to red giants.
They are found spherically distributed around our galaxy, not in the plane.
They look like little spherical fuzzy patches in small telescopes, an 8 inch can see stars.
One of the brightest examples is the Hercules Cluster on an edge of the trapezoid in Hercules.
Many globular clusters are strong X-ray sources, perhaps from many neutron stars.
Measuring Distances to Clusters
Parallax only works for the very nearest clusters, like the Hyades.
Estimating the luminosity from the H-R diagram works, especially fitting the main sequence.
Measuring the period of Cepheid variables gives luminosities for some globular clusters.
Measuring the diameter of more distant globular clusters gives an estimates.
One has to allow for the interstellar reddening from dust particles.
Evolution
About half of open clusters have so many massive blue stars that they appear to be young.
Globular clusters often don't have any bright blue stars and are thought to be very old.
All clusters in the plane of our galaxy are being disrupted; almost no globulars are known there.