Marinda Griffeth Clark
Marinda Griffith was born March 7, 1857 at Fairfield, Utah (Cedar Fort), fifth child of Elizabeth and Patison.She was four months old when Johnston's army resided near by at Camp Floyd. Her parents left to help settle Cache County where they settled at Hyde Park, Utah. She was baptized April 6, 1865 at Hyde Park, Cache County, Utah. She was married to Henry Hobson as his second wife, May 15, 1876 and had one child, George who died. This marriage did not last, due to the jealousy of the first wife. Later, she remarried to Orange McOmber in 1884 as his second wife. They had two children: Elizabeth Marinda, known as Minnie, and Calvin Delos (our grandfather). Minnie died of whooping cough and pneumonia. Later, Orange deserted his families (Div.). March 12, 1902. This was a harsh blow to Marinda and Avilda (his first wife). After many hard years as a single mother, Marinda remarried to Patriarch Arthur Benjamin Clark. She was his fourth wife and they soon moved to Old Mexico. Calvin was sealed to Arthur B. Clark & Marinda, Oct 7, 1914 in the Logan Temple. It was in the Mormon Mexican colonies that Calvin McOmber, her son, met and later married Achsah Stout. Marinda struggled with health problems and was an invalid later on in life. Calvin carried her to the train during the expulsion of the saints during the Mexican Revolution. She was skilled in making hair flower wreaths. She was a pioneer of Hyde Park and of Old Mexico. She died June 29th, 1916 at the age of 59 and was buried at Hyde Park cemetery by her two children, Minnie & George.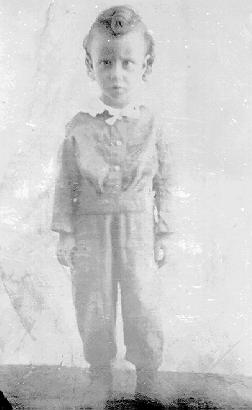 Her son George Hobson who died shortly after this picture.