Calvin Delos McOmber, Jr.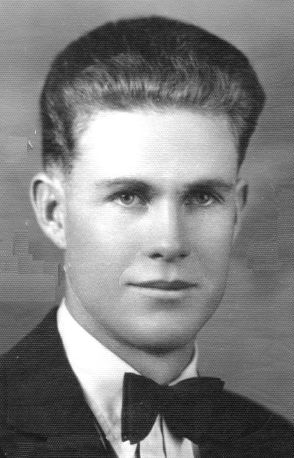 High School
Calvin Delos McOmber, Jr. was born in a small log house in Groveland, a suburb of Blackfoot, Idaho, on April 11, 1910. He was the first child of Calvin Delos McOmber, Sr. and Achsah Stout. The couple had residence in Guadalupe, Mexico, but had recently visited Salt Lake City where they were sealed in the temple. Achsah recorded in her journal, "We decided to remain in Blackfoot, Idaho, as Emma Hale told us anyone holding a hammer could draw a wage of five dollars a day, which was big wages for those days. My husband worked at anything he could find from sorting potatoes, hauling beans, to carpentry. How we longed to be in Mexico on our farm! But it took cash to travel and we were expecting our baby in April." Soon after Calvin's birth, they returned to their home in Mexico and resided there until the revolution and expulsion of Americans from that country during the Mexican Revolution in 1912. By this time he had a younger brother, Emerson, who was his closest companion throughout his childhood.
After a two year stay in Logan, Utah, the McOmber family moved to Oakley, Idaho, where they struggled three years on a dry farm. It was here that Calvin spent his childhood herding cows, working on the farm and working long hours to help the family. Calvin graduated from Oakley Rural Grade School. After he finished one year in high school, the family moved to Pocatello early in the summer of 1925, except for Calvin who was working on a ranch between Oakley and Burley. He followed that autumn, by which time he had five more younger brothers: Arthur, Ferryle, Winston, Adrian and David. Later his only sister Velma was born.
In Pocatello, the McOmber family soon gained many friends, mainly in the L.D.S. church where most of their social contacts were made. Calvin and Emerson made marks in high school athletics, and helped their team win the U.S. high school basketball championships in Chicago. The family "had all things in common" financially. Each boy turned in all his earnings to the parents. Little was spent for shows and other pleasures. The church activities were the main source of social delights.
In 1932, Calvin was called on an L.D.S. mission to Czechoslovakia. There he served nearly three and a half years under the leadership of Arthur Gaeth. The extra time beyond the usual three year mission was spent working with a minister near Prague, whom he baptized before leaving for home, in the Spring of 1936.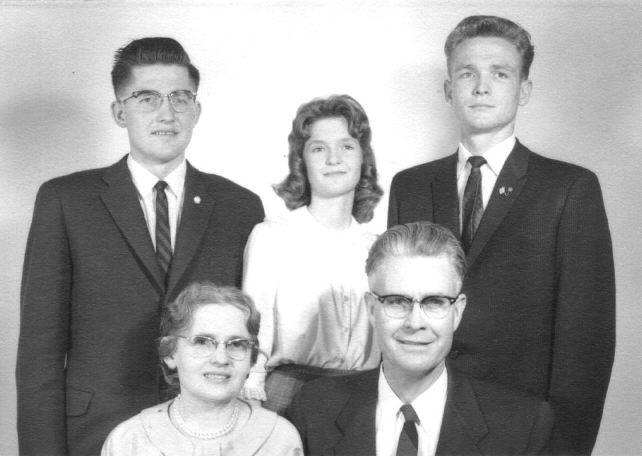 Frances & Calvin with children
(L-R) George, Ruth and Calvin

Calvin proposed by letter to Frances Brodil of Prague, Czechoslovakia, who had been a member missionary there. They were married on April 30, 1937 in the Salt Lake Temple. Calvin loved to learn and desired to become a medical doctor. However, the Great Depression was on and the family needed him home to work at the dairy. He worked hard and received his B.A. in zoology and chemistry at B.Y.U. and his M.A. in Educational Administration and Modern Scripture there. He taught L.D.S seminary at Pocatello High School, and later served for 22 years as Associate Director of the L.D.S. Institute of Religion at Pocatello, Idaho State University.

He was a pillar of strength for the L.D.S. Church in Pocatello. He served in a Stake Presidency and numerous other callings. He and his dear wife Frances were temple workers for two decades at the Idaho Falls temple. He was also a Patriarch for the L.D.S. Church for many years. He was a very gifted teacher, carpenter, farmer, politican and musician. Respected and very loved by his students, his family, he was a great example to all who knew him for his faith, service, teachings and integrity.

They became the parents of five children: George, Frances Marie who died at 18 months, Calvin, Charles, and Ruth. Except for Charles who had brain damage at birth, all these living children have college degrees, served L.D.S. missions, married in the temple, and blessed them with twenty grandchildren.

He retired from professional teaching Sept. 30, 1975, two days before being called by President Spencer W. Kimball to the presidency of the Idaho Falls Temple. After being released from the temple presidency, he was called to go to Davis, Calif. for some church training. While there, he died unexpectedly from a heart attack on Nov. 4, 1980.

Ruth McOmber Pratt, writes of him:
My father, Calvin D. McOmber was a very gifted teacher. He was my favorite teacher when I took classes at the LDS Institute. Many people would tell me that he was their favorite teacher. He spoke with such great love of the gospel of Jesus Christ and he had a great gift of delivery to his students. He truly loved his work and many loved my father for his strength of testimony and example. He made the New Testament, the Book of Mormon, the Parables of Jesus, the Old testament etc. truly come alive.

I loved to sing with my father. He had such a rich and melodious tenor voice. Let Me Call You Sweetheart was often sung to my dear mother. He loved my mother so very much and sang sweet songs to her. Also we would sing our state song of Oh Here We Have Idaho, White Choral Bells, When It's Springtime in the Rockies, Abide With Me, Tis Eventide, Oh My Father etc.were often sung around the piano and on trips.

My father's only weakness was his over-conscientiousness. He was over worked and had such a drive for perfection. He never did a sloppy or half-hearted job. Everything he did was done well and correctly. He loved to work and especially in the Church. There was always a need, and he always was there and dependable. He was a very dear and beloved friend that I have missed with all my heart. My father has come to me in dreams and still gives us comfort. He still provides for some of our sustanance from his storage sheds he built. Thank you dear Daddy for thinking of us and being our guardian angel.
To You, My Dear Daddy
by his daughter Ruth

Dear Father, standing tall, straight and true
I'm so thankful God gave me to you
Handsome, strong, upright and brave
Honoring your priesthood, our souls you did save
Valiant, obedient, steadfast to God's call
Teacher, builder, athlete of basketball
Blessed by your hands, anointed our heads
Healed us, protected us, sheltered our beds
You gave us perfect safety, harmony and song
Our home was a haven, a refuge from all wrong
A strictly disciplined man, frugal and fine
Truly tempered steal, you were refined
Temple worker, farmer, missionary too
Thank you dear daddy for giving me to you.